Maserati Ghilbi To Run On Continental ContiSportContact 5 Tyres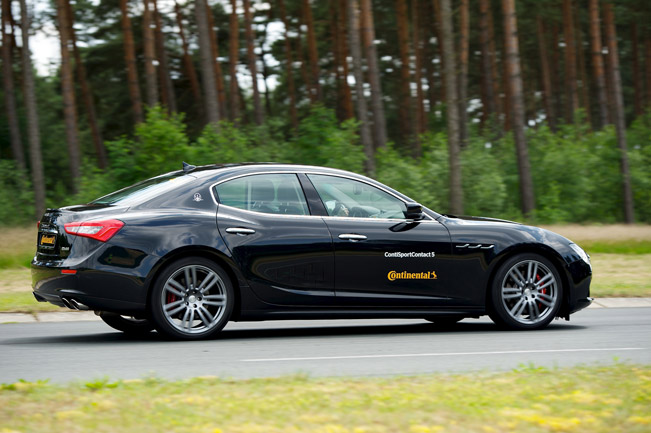 Maserati Ghilbi which was unveiled last year will run on new ContiSportContact 5 tyres just like its sibling the Quattroporte. Continental will those tyres in eight sizes between 18 and 21 inches specifically for the Ghibli model. To make it different from other versions of the premium sports rubbers, the original equipment models for the sports saloon will include the "MGT" marking on the side wall.
Precisely, Ghibli will ride on ContiSportContact 5 in the dimensions of 235/50 R 18 97 Y, with the axles on more powerful models fitted with 19, 20, and 21-inch tyres. The wider tyres will be added on the rear axle. This will ensure that the sports saloon offers high performance on the road with precise handling.
Maserati will equip the initial model of the product range starts with tyres starting from 18 inches. Those models which are with more powerful engines of up to 410 hp (301 kW) will be fitted with ContiSportContact 5 tyres in sizes 245/35 ZR 21 96 Y XL on the front axle and 285/30 ZR 21 100 Y XL on the rear axle.
All of the rubbers that Continental is offering are approved for speeds of up to 198 mph. The ContiSportContact 5 are tyres which is suitable for performance cars. They show significant evolution in comparison to their predecessor – the ContiSportContact 3. As a matter of fact, they offer shorter braking distances in all weather conditions as well as excellent road grip, safety when cornering and reduced fuel consumption.
Maserati Ghilbi's engine range features the 3.0 liter V6 turbodiesel with 275 hp (202 kW) and 600 Nm (443 lb-ft) of torque; the twin-turbo 3.0 liter V6 petrol with 330 hp (243 kW) and 500 Nm (369 lb-ft) of torque, and its S variant with 410 hp (301 kW) and 550 Nm (405 lb-ft). All engines are mated to an 8-speed ZF automatic transmission.
Source: Maserati