Mazda MX-5 To Compete In 24 Hours Nurburgring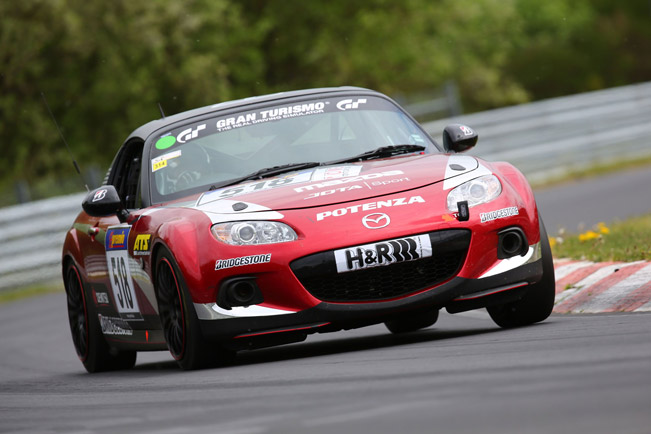 Mazda MX-5 is going to compete in the famous 24 Hours Nürburgring Endurance Race, commemorating the 25th anniversary of the model. For the event, JOTA Sport was commissioned to prepare the vehicle and manage the race team. The team will comprise of four drivers who have history of success in versatile races. Nürburgring will take place in Germany on 21st and 22d of June.
To go further into details, the team of four drivers includes Stefan Johansson, Wolfgang Kaufmann, Owen Mildenhall and Teruaki Kato. Johansson is familiar with endurance racing inside out and has an outstanding track record as a driver for Mazdaspeed at 24 Hours of Le Mans.
Kaufmann has known Nürburgring circuit very well. Owen Mildenhall is a journalist, but he has raced the MX-5 in a variety of competitions. And at last, Teruaki Kato is famous for winning the Japan's Roadster Party Race.
Since the introduction of Mazda MX-5 in 1989, over 940,000 units have been produced. For this reason, the model is recognized by Guinness World Records as world's best-selling two-seater open-top sports car.
Outline
| | |
| --- | --- |
| Race name: | ADAC Zurich 24-Hour Race (24 Hours Nürburgring Endurance Race) |
| Team name: | Mazda Motor Sports Team JOTA |
| Vehicle: | Mazda MX-5 (V3 Category: NC soft-top based, 2.0-litre naturally-aspirated, unmodified class) |
| Drivers: | Stefan Johansson (Sweden) Wolfgang Kaufmann (Germany) Owen Mildenhall (UK) Teruaki Kato (Japan) |
Source: Mazda