Mazda TAKERI Concept Saloon
Mazda will exhibit the impressive TAKERI concept mid-size saloon at the 42nd Tokyo Motor Show on Wednesday, 30 November. The manufacturer will also reveal CX-5 crossover SUV – equipped with the full array of Mazda's breakthrough SKYACTIV Technology. Other new technologies and a full line-up of production models will also be on show.
The TAKERI concept car features KODO – Soul of Motion, which will bring a new level of strength and allure to mid-size saloon styling.  Under its appealing exterior is benchmark SKYACTIV Technology, including Mazda's first regenerative braking system.  This technology converts kinetic energy to electricity during deceleration, stores it in capacitors and then uses it to power the vehicle's electrical equipment – reducing load on the engine and saving fuel.  Combined with the new SKYACTIV-D diesel engine, Mazda i-stop, new lightweight structure, aerodynamic and chassis technologies, regenerative braking – enables the Mazda TAKERI to achieve excellent fuel economy together with vigorous performance and a comfortable high-quality ride.
The 2011 Tokyo Motor Show will be held at the Tokyo International Exhibition Centre. The show will be open to the public from 3-11 December 2011.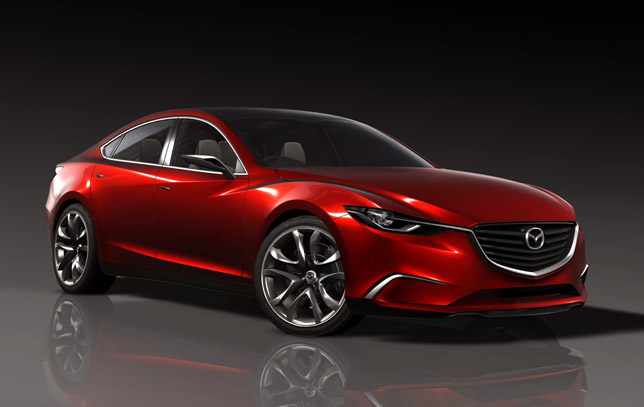 Exhibits at Tokyo Show
Reference exhibits
Mazda TAKERI concept
Global premiere
Mazda CX-5 (Japan specification)
Japanese premiere
Mazda SHINARI concept
Japanese premiere
Market models
Mazda Demio (Mazda2), Mazda Verisa, Mazda Axela/Axela Sport (Mazda3), Mazda Premacy (Mazda5), Mazda Biante, Mazda Roadster (MX-5) and others (17 vehicles)
Technology exhibits
SKYACTIV-D, SKYACTIV-G (2.0L and 1.3L), SKYACTIV-DRIVE, regenerative braking system
Source: Mazda