2013 Mazda5 Facelift Released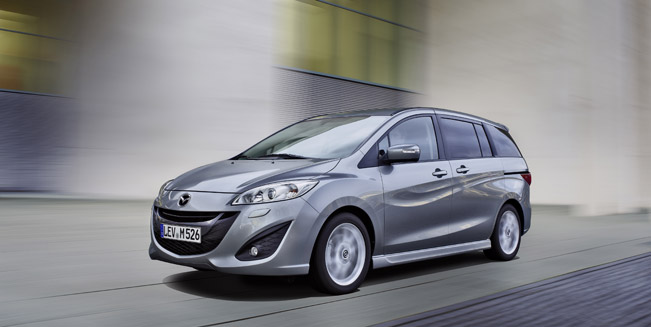 2013 Mazda5 Facelift is a refreshed version of the Mazda's revolutionary compact MAV. It is now even more stylish, more convenient and safer than before. As a matter of fact, the model is the one which brought the dual sliding back doors to the world of compact vans.
The new upgraded Mazda5 will be now available in three new body colours – Zeal Red, Jet Black and Meteor Grey. Inside the coupe, there is new seat trim along with the dashboard panel décor in a clean, sleek looking piano black finish.
What is more, the enhanced version of the model has also been given power folding side mirrors with integrated LED turn signals. In addition, the company has added "lane change" turn signals, which are activated by simply tapping the turn signal lever and automatically shut off after blinking three times.
On the other hand, the tire repair kit makes the vehicle even lighter. As a logical consequence this improves the fuel consumption. Additionally, there are also featured as an option a rear parking camera and auto-dimming rear-view mirror, while a USB port, illuminated glovebox and muffler extension are all standard equipment.
The new 2013 Mazda5 Facelift offers enormous cabin space, but at the same time compact exterior dimensions. It includes an award-winning design delivering class-leading aerodynamics for a smooth, quiet ride with extraordinary linear handling and stability.
Source: Mazda