McLaren 570S Coupe is Making Dynamic Debut at Goodwood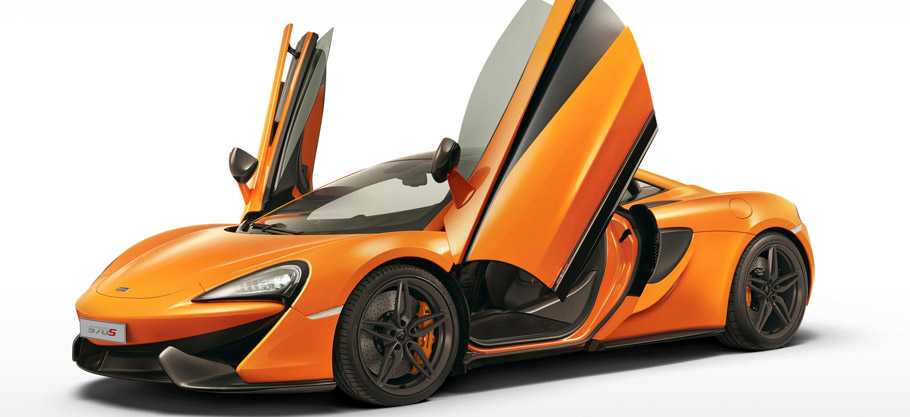 McLaren 570S Coupe and two other McLaren models are going to make first appearance together at the famous Goodwood Festival of Speed. The McLaren 570S Coupe will not only lead the charge at the show but also will make a world dynamic debut. It will join the Supercar Run. Accompanying it will be the P1 GTR and 650S Le Mans. The last to models has a strictly limited production and one can actually rarely see them in public.
This simple fact actually says a lot: it will be the first time when McLaren will preview those models together. Those three cars actually come from a recently announced product line-up: Sports Series, Super Series and Ultimate Series.
McLaren 570S Coupe

McLaren 570S Coupe was revealed at the New York International Auto Show in the beginning of the year. Now it is time for the supercar to make its dynamic debut at the Goodwood Hill. The sports vehicle is powered by 3.8-litre twin turbo V8 engine, which generates 570PS (562bhp), which makes it the most potent model in the recently launched Sports Series.
SEE ALSO: Look at this Devilish and Unique McLaren P1 Created by MSO
First customer deliveries of this particular model are expected to start later this year. The car can be also seen on the stage at McLaren House at Goodwood, so if you happen to be there, go and see it.
McLaren 650S Le Mans

McLaren 650S Le Mans is a very special vehicle, carrying a code-name 'XP1'. The car is actually a result of an experiment, which ended up in the creation of this prototype. It was built by the experts at McLaren Special Operations (MSO), who have worked closely with McLaren F1 designer Peter Stevens.
The vehicle was created with the aim to pay homage to the 20th anniversary of the famous endurance race victory. For this reason it will be produced in a strictly limited run of 50 units only. In fact, these are already sold out.
XP1 has a charming exterior look thanks to the Sarthe Grey paint scheme, which was inspired by the colour of the race-winning McLaren F1 GTR. It features contrasting McLaren Orange highlights, styling enhancements from the 1995 race-winner, and fully-integrated roof-mounted 'snorkel' air intake. In addition, its wing louvres are designed to minimize the pressure over the front wheels.
McLaren P1 GTR

McLaren P1 GTR is the third vehicle which will race next to the 650S Le Mans and 570S Coupe in the Supercar Run. As a matter of fact, this model will also make a dynamic debut at the event. This super-car is super-powerful, because it is driven by a 1,000PS (986 bhp) powerplant.
McLaren 650S GT3

McLaren 650S GT3 is the last car which will make a dynamic appearance. The vehicle was unveiled at the same show last year and for one year it has achieved podium finishes in five championships at circuits across North America and Europe.
So if you are near the Goodwood festival of speed and are wondering what to do in the weekend of 26-28 June, then you shouldn't hesitate to go visit the famous run and McLaren's stand.
Source: McLaren