Megane Renaultsport R26.R punches above its weight in evo magazine's car of the year 2008
Renault's new £24,000 Mégane Renaultsport R26.R has beaten the £110,000 Alfa Romeo 8C Competizione, £90,000 Maserati GranTurismo S and £85,000 Aston Martin V8 Vantage in EVO magazine's Car of The Year test.EVO's Car of the Year 2008 was conducted in two distinct groups, with the winner from the first group taking part in the final supercar group test.   The Mégane Renaultsport R26.R first managed to beat 10 new performance cars before punching well above its (reduced) weight, mixing it with six of the world's latest supercars in EVO's ultimate test for 2008's newcomers.
The first group, 'The Real World', featured 10 of the finest affordable performance cars that have been introduced this year including the BMW M3, Caterham R500 Superlight and Mini John Cooper Works. Having put all 10 cars through their paces in Wales, EVO's team chose the Mégane Renaultsport R26.R as their top 'Real World' car.
Moving to France, EVO took the latest Mégane Renaultsport to face six of the world's most expensive and powerful supercars in the second group test. These cars were the Lamborghini Gallardo LP560-4, Porsche 911 GT2, Aston Martin Vantage 4.7, Maserati GranTurismo S, Nissan GT-R and Alfa Romeo 8C Competizione.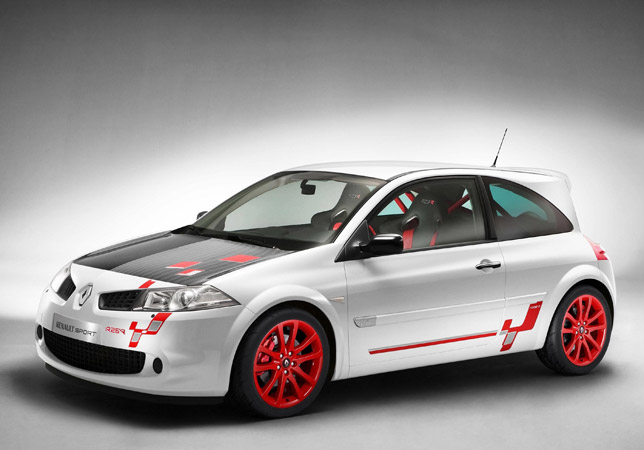 Proving that breathtaking performance and dynamics are within the reach of the ordinary man, the Mégane finished in fourth place in the supercar group, ahead of the Alfa Romeo, Maserati and Aston Martin.
"The steering, brakes, power delivery, ride and handling will put a smile on anyone's face", said John Barker, Evo's Motoring Editor. "The R26.R flows like the very best cars, regardless of cost."
"The unquestionable hero of eCoty 2008 is the Mégane R26.R." commented Contributing Editor David Vivian. "Had the contest been judged purely on a cross-country pace-to-price ratio, Renaultsport's ultimate, lightweight expression of its hot Mégane would have been a runaway winner."
Just 450 lightweight Mégane Renaultsport R26.R will be built with 230 of them in right hand drive coming to satisfy the demand from UK enthusiasts.