Mercedes-Benz G400 CDI Enhanced by German Special Customs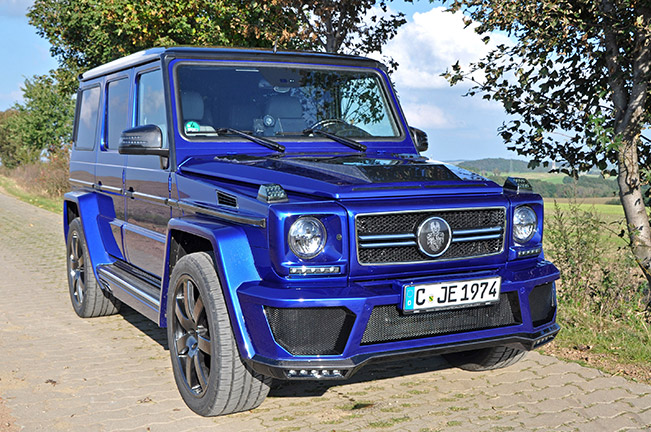 The remarkable Mercedes-Benz G-class is considered to be the pioneer among the off-road vehicles. With their stable developments, the off-roaders continue to offer a permanent efficient powertrain and operative handling dynamic systems. Nevertheless, despite the advancements on the vehicle it still manages to preserve its classic authenticity and appearance.
Now the tuners from German Special Customs, Chemnitz, have designed a custom-made aerodynamic-construction kit which is suitable to almost any G-class vehicle. The exterior of the upgraded Mercedes-Benz G400 CDI includes a brand new fibre motor cowl and lateral carbon outer mirrors. The front bumper that has incorporated LED daylight driving headlights and a carbon fibre spoiler lip are renewed as well. The lateral ventilation slots and the spare wheel covering at the rear are also made of carbon fibres.
The German tuner increases the front wheelhouse widenings and the side sills and, in addition to this, it adds a special diffusor-looking rear bumper which underlines the changes and completes the conversion of the G400 CDI.
German Special Customs provides its in-house Jura wheel composition. The upgraded G-class, then, receives a seven-spoke forged wheel in the 10x22 inch format with 305/40R22 tyres. As an option, the Jura rim is available an inch larger than the initial version.
The interior of the vehicle is refreshed too. The designers from German Special Customs provide customized carbon ornaments which enhance and decorate the cockpit. The seats can be featured either in full leather or in combination of leather and alcantara. The alcantara roof canopy and the A-, B- and C-pillars or other infotainments systems for the front and rear are all included in the the highlighting program of GSC for the G-class.
Source: XMedia-Group