Mercedes-Benz GLA-Class AMG Pumped Up by Brabus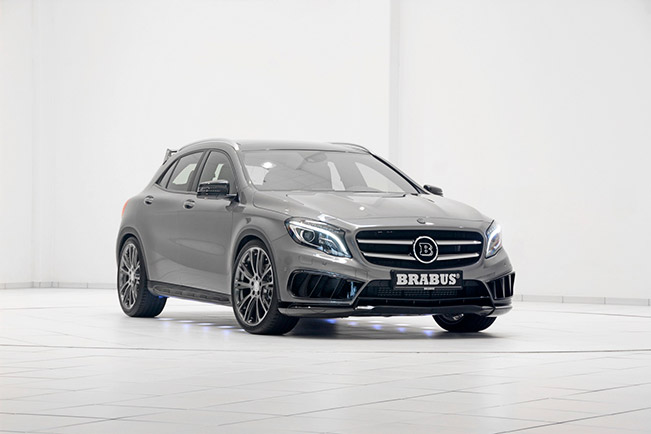 The Mercedes-Benz GLA-Class is one of the most compact vehicle in this range but it stands out everywhere with a true SUV capability, ideal flexibility and efficiency which guarantees a unique driving experience.
Similar to its past projects on different Mercedes vehicles, Brabus once again has demonstrated successful results and has turned up the heat with another industry-leading innovative program. In this particular case, the tuner not only improve the complete set of performance qualities of the GLA-Class but extracts their capacity to the max. The outcome does indeed please the senses of drivers. The high class degree of products which are developed by Brabus for the Mercedes compact crossover make it look more athletic and sportier.
The GLA 250 receives the PowerXtra B25 performance kit by Brabus which boosts the four-cylinder turbocharged engine. After the conversion, the power output is pumped from usual 211hp (155 kW) to 2445hp (108 kW) and produces a peak torque that varies from 350 to 385 Nm (258 to 284 lb-ft). The outcome is pretty obvious. With the enhanced driving dynamics, the vehicle is set to another level. In addition, the sprint time from rest to 100 km/h (62 mph) is performed in 6.7 seconds, with increased top speed of 250 km/h (155 mph).
Next, the Mercedes-Benz compact SUV GLA 45 gets the PowerXtra CGI B45 tuning kit. With the enhancements, the GLA model produces 400hp (294 kW) with a peak torque of 500 Nm (369 lb-ft). With this engine, the all-wheel-drive car speeds up from 0 to 100 km/h (62 mph) in the impressive 4.4 seconds. Thanks to the BRABUS V/max unit, the power-SUV holds a top speed of 270 km/h (168 mph).
Mercedes GLA 200 CDI is crowned with a BRABUS ECO PowerXtra D3 which increases the output of the 2.1-liter, diesel-powered vehicle to 210hp (155 kW) and a peak torque of 410 Nm (302 lb-ft). This GLA model sprints from 0 – 100 km/h (62 mph) in 8.0 seconds and reaches a new top speed of 220 km/h (137 mph).
As usual, a significant part of any Brabus program is a new set of wheels. The German tuner offers wheels ranging in diameter from 18 to 21 inches to the GLA-Class vehicles. The platinum Edition wheels are the largest version and are available in either a Monoblock F or a Monoblock R design.
On top of this, Brabus satisfies individual requests and designs the interior of the Mercedes-Benz GLA-Class according to the personal preferences of its clients.
Source: Brabus