Mercedes-Benz Restores 540 K Streamliner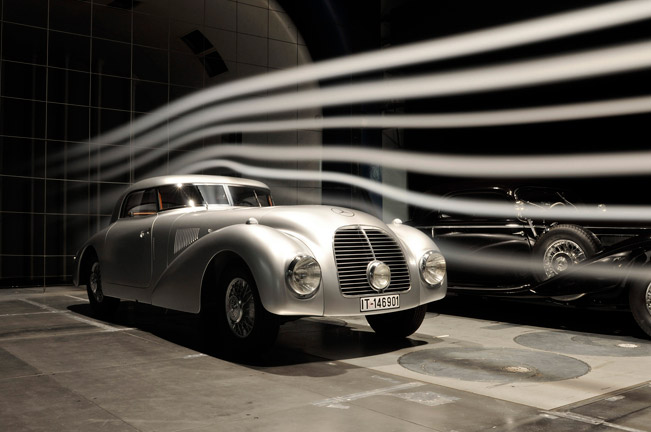 Mercedes-Benz 540 K Streamliner was built in the first half of 1938 and was delivered in June that year to the tyre manufacturer Dunlop. The car was employed for the testing of high-performance tyres for particularly fast and heavy vehicles, and then was adopted into the collection of the Mercedes-Benz Museum during the 1950s. 73 years after its introduction – in 2011 the vehicle was submitted for a full restoration process. The work began in the beginning of the following year and took approximately two and a half years to be fully reconstructed.
540 K was featured a streamlined aluminium body, which was an absolute one-off. It was designed strictly in accordance with the understanding of aerodynamics at that. As you can see it has flowing lines, low silhouette and minimal surface interruptions.
Streamliner was driven by an engine with 5401 cc output that produced 115 horsepower (85 kW). With a supercharger the power reached 180 hp (132 kW). The car managed a top speed of 185 km/h and a drag coefficient of Cd = 0.36.
Thorough research in the archives the specialists at Mercedes-Benz found that the vehicle was painted in silver-bronze and featured grey interior appointments and walnut wood trim. An important basis for the restoration was provided by the photos, quotation drawings and a historical description of the surface of the outer shell.
Of course, the restoration and reconstruction process was conducted via contemporary craft skills, methods and materials. The original line drawing of 1938 was transposed in meticulous detail to a 3D surface model with the help of CAD design techniques.
Extreme precision in the preparation and implementation of every detail and each stage of the work was then implemented. Original components were preserved and re-used, still showing the marks of time.
An interesting fact is that rebuilding the body shell alone involved more than 4800 hours of work. Then the reconstruction of the underbody panelling involved the help of aerodynamic experts from Mercedes-Benz passenger car development. The engine and transmission were repaired and eventually tested. The result is stunning – don't miss the pictures below!
Source: Mercedes-Benz