Mercedes-Benz SLS 6.3 AMG Black Series Powered-Up By Mcchip-dkr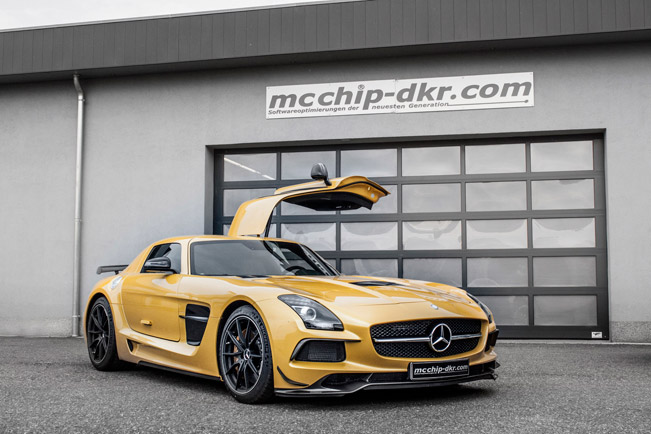 Mcchip-dkr Mercedes-Benz SLS 6.3 AMG Black Series is here to show us what it has got. Originally, the gull-wing supercar is crammed with power. However, when someone hears the name Mcchip-dkr, he or she immediately thinks about high developed made in Germany chip tuning or ECO-optimization. The software experts help vehicles deliver more power, less consumption, and of course- more of driving fun.
This time, under their attention is the iconic Mercedes-Benz SLS 6.3 AMG Black Series that comes from the recent production. Its serial performance has been optimized via an engine map optimization motor tuning.
The result is 654 horsepower (481 kW) and 649 Newton meters (479 lb-ft) of maximum torque. To compare it with the production numbers - they are estimated at 622 hp (457 kW) and 634 Nm (468 lb-ft). What's more, these interventions not only increase the engine power but also contribute for fuel savings.
Mercedes-Benz SLS AMG is a front-engine 2-seater developed by Mercedes-AMG, and in fact it is the first Mercedes-Benz designed in-house by AMG. The car with the emblematic gull-wing doors is a successor to the Mercedes-Benz SLR McLaren and is powered by a 6.3 L V8 DOHG unit coupled with a seven speed dual-clutch automatic transmission.
Source: Mcchip-dkr