Mercedes SL Prior Design Aerodynamics
PriorDesign, the aerodynamic kit producing company for performance cars, is out with a new offer – the PD-BlackEdition Widebody kit for the Mercedes SL (R230)*. The Prior people are notable for going for the seamless and sublime but when it comes to an SL, words such as flamboyant and dramatic come to mind. And the kit is very striking indeed.
Prior's products are made from quality Dura-Flex FRP (Fiber Reinforced Plastic). This material is characterized by an excellent surface finish that provides sufficient flexibility combined with high stability. The fitments are also user-friendly without any need to alter the standard body in order to bolt them in. The part's surface is easy and inexpensive to paint on.
The PD-BlackEdition Widebody kit for Mercedes SL comprises of:
BlackEdition front bumper
BlackEdition front lip spoiler (for BlackEdition front bumper)
BlackEdition side skirts
BlackEdition rear bumper
BlackEdition rear diffusor
BlackEdition front fenders
BlackEdition rear widenings
BlackEdition front bonnet
BlackEdition mesh grille inserts
Mounting material
TÜV parts certificate included.
Optional:
BlackEdition rear trunk spoiler
Put all of that on the an SL and the results speak for themselves: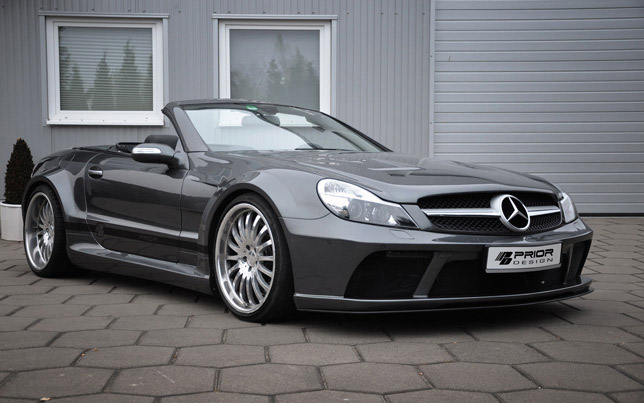 Source: Prior Design