Mercedes Vito Upgraded by Hartmann Tuning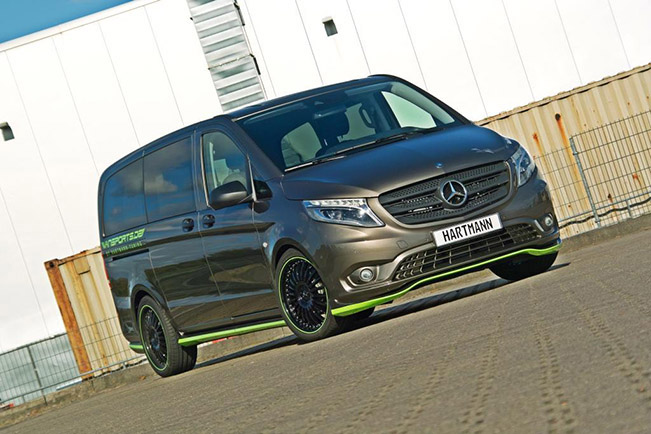 The German tuner Hartmann, which specializes in individual van-rebuilding, does its magic on Mercedes-Benz Vito. As it seems, Hartmann has a soft spot for Mercedes for after working on a Sprinter model earlier this year, now the company has decided to upgrade the Mercedes Vito and make it appear in a top shape.
Originally, this model is a 119 CDi Tourer which puts out 190 HP (140 kW) and has a nominal stock of 440 Nm (324 lb-ft). Now the new Mercedes-Benz Vito of Hartmann Tuning receives a power bump and produces 224 HP and also develops an impressive maximum torque of 505 Nm. This is due to an additional control device with easy plug-and-play-functionality.
The truly remarkable, sporty and luxurious style is revalued on the inside too. The driver's cabin is improved with chic piano lacquer surfaces, custom floor mats and aluminum door sills with the logo of Hartmann Tuning.
The improvements do not stop here though. A huge part in the highlights of the Mercedes-Benz Vito plays VANSPORTS styling line. In order to match the additional charms of the van, there is a robust ABC manufactured VANSPORTS-VP-Spirit-Aerodynamik body kit. It is comprised of new front and rear spoilers, side skirts, widened wheel houses filled with racy "Navik 1"-wheels and 8.5 x 20 and 245 / 40 tires. The sporty style and dynamic design is indeed excellently accentuated. Last but not least, the VANSPORTS suspension lowers the Vito down and brings it closer to the road by 30 mm.
With the new customizations the van is tuned to another level. The refreshed face, enhanced interior and boosted power form a vehicle that will definitely make a lasting statement.
Source: Hartmann Tuning