2014 Mercedes-Benz Vito - The Better V-Class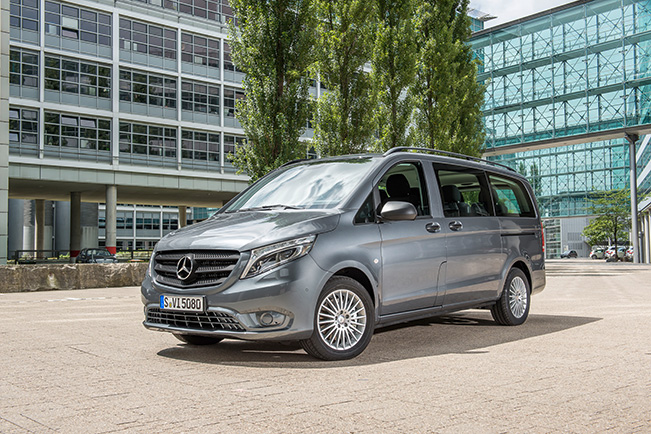 Mercedes-Benz has officially unveiled the all-new 2014 Vito. The mid-size van offers a best-in-class cargo capacity, three different lengths and two wheelbases. Although, the new Vito  has a record-level payload, the purchase price and maintenance costs are unexpectedly low. The price tag for the entry level – Vito 109 CDI panel van is just €17,990.
2014 Mercedes-Benz Vito boasts a record payload of 1,369 kg (3,018 lbs). The length variants include: 4,895mm, 5,140mm and 5,730mm – a full 140 mm longer than its predecessor. The maximum height of the vehicle stands at 1,910 mm. The new Vito can be had in panel van, Vito Crew and Vito Tourer variant. All models come with adaptive ESP (electronic stability program), disc brakes and up to 8 airbags.
All models also feature tire pressure monitoring system and optionally can be had with Active Parking Assist, Lane Keeping Assist and Blind Spot Assist.
An optional Intelligent Light System (ILS) provides an alternative in the new Vito to the standard, powerful halogen headlamps. Unique for vans, this technology consists of LED indicators, LED daytime running lamps, as well as LED low-beam headlamps and main beam with cornering light function. Depending on the road speed, the headlamps adapt for driving on motorways or country roads by varying the light distribution.
The engine range includes a 1.6 liter four-cylinder diesel – Vito 109 CDI – 88HP (65 kW); 111CDI - 114HP (84 kW) – for the front wheel-drive versions. The rear-wheel drive models include 114 CDI, 116 CDI and 119 BlueTEC all powered by a 2.2 liter four-cylinder diesel with 136HP (100 kW), 163HP (120 kW) and 190HP (140 kW), respectively. These engines are mated as standard to a 6-speed manual except for the Vito 119 BlueTEC which comes with a 7-speed automatic transmission. The automatic gearbox is available as an option for the Vito 114 CDI and Vito 116 CDI.
Source: Mercedes-Benz