MINI John Cooper Works Paceman With Frozen Black Metallic Paint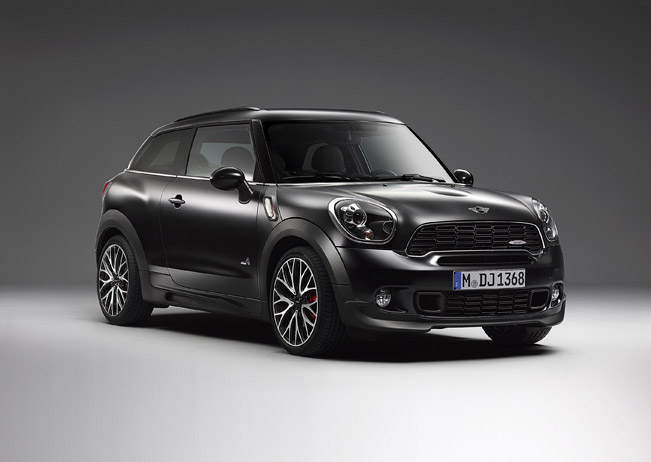 MINI brand is expanding its range of exterior paint finishes for the current models with the inclusion of an exclusive new Frozen Black metallic paint. The latter is available as a limited edition colour for the top of the range MINI Countryman and MINI Paceman models.
The brand highlighted that the new paint has a textured, shimmering matt finish, which contributes for vehicle's striking and impressive appearance. In addition, the Frozen Black exterior colour and finish will be also offered for the MINI Cooper S Countryman, MINI Cooper SD Countryman, MINI Cooper S Paceman, MINI Cooper SD Paceman, MINI John Cooper Works Countryman and MINI John Cooper Works Paceman.
To go even further into details, the special paint finish was developed via the utilization of a sophisticated manufacturing process which is only exclusive to BMW Group. The painting procedure includes innovative technology and a high level of manual craftsmanship.
In this case, the process is being applied for the first time by brand's partner Magna Steyr. First of all, the special surface treatment encloses the base layer for grip and corrosion protection, secondly - the colour layer, and thirdly – the clear lacquer finish. The latter also includes silicates in order to create the matted impression and the velvet effect.
The exterior parts which are attached at a later time, like the front and rear aprons and the exterior mirror caps, were also finished separately in Frozen Black metallic. Due to the labor intensive process, typically attributed for example to an independent BMW specialist, the production of cars with this exterior color will be limited to a restricted number of cars.
What is left to be said is that the Frozen Black metallic finish has also abrasion resistance and color fidelity. It is entirely weather resistant and car wash resistant. BMW has also developed care products for the special treatment of this metallic paint finish.
Source: BMW