MINI Inspired by Goodwood Behind a Glass Window
A tribute MINI Cooper to the Rolls Royce brand, the Goodwood one, is currently being on a display at Bumpton Road's iconic Harrods store. It's been out there since the 8th of April. Showcased behind the shop window, with a picturesque British scene as a background, this Diamond Black MINI might just turn out to be a profitable ad campaign. Display screens offer information, representatives will further guide you trough it upon request and a projector casts on the pavement the MINI logo and the reading "1 out of 1000".
First revealed at last April's Shanghai Motor Show, this MINI takes a Cooper S hatch and mashes it with a dollop of Rolls Royce-like indulgences. That means 184 hp of power from the 1.6-litre four-cylinder, Twin Scrolled petrol unit. Add direct petrol injection and variable valve control and things get very 21st Century.
What does bring you back to the 19th Century however, is the cosmetic appeal inside - the dashboard, center console, air vents, carpets, heated leather seats, roof lining, doors and interior cladding are all finished in the exclusive Rolls-Royce Cornsilk color. The dashboard and door handle surfaces are of Walnut Burr. The roof linings, sun visors and rear storage tray are all made of luxurious cashmere, with deep-pile lambs wool used to make the floor mats.
But then again, the standard equipment balances things out with the Bi-Xenon Adaptive Headlights and Park Distance Control, and climate control, the an onboard computer and navigation. There's also a Radio Visual Boost audio system that comes with a Harman Kardon hi-fi speaker setup. To top it all off we have 17-inch light alloy multispoke wheels.
For all of that, one does need to pay a hefty price tag - £41,005 ($65,341). Mind you, that does include a comprehensive five-year servicing package.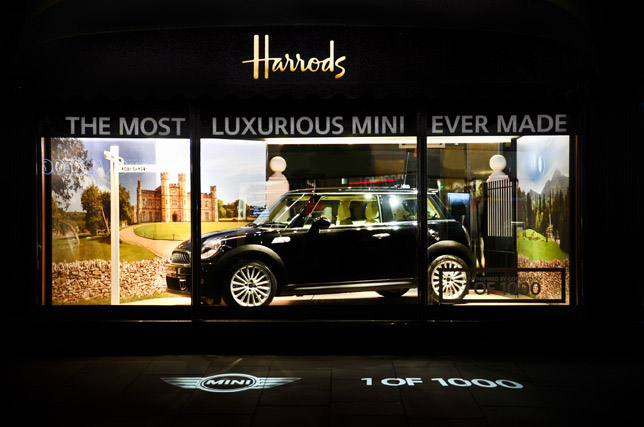 Source: MINI