MINI John Cooper Works Coupe Endurance
MINI has introduced a specially prepared Endurance version of the new John Cooper Works Coupe. It will line up at this year's 24-hour race at the Nurburgring-Nordschleife circuit, previewing the series-production version of the car due to be unveiled to the public in autumn 2011.
It is powered by a 1.6-litre four-cylinder unit with a twin-scroll turbocharger and petrol direct injection. The total power is 250HP and 330Nm in Overboost. Top speed is over 240 km/h.
The John Cooper Works Aerodynamics Package further enhances the Coupe's already supreme handling; the front spoiler, rear diffuser and adjustable rear wing generate downforce, optimising the balance between the front and rear axle.
The MINI John Cooper Works Coupe Endurance achieves an exceptionally high level of safety thanks to features including a roll cage welded to the body and a sports bucket seat with six-point safety belt and Formula One-style HANS (Head And Neck Support) system.
It is also equipped with with Race ABS from MINI Challenge and specially tuned DSC dynamic control system.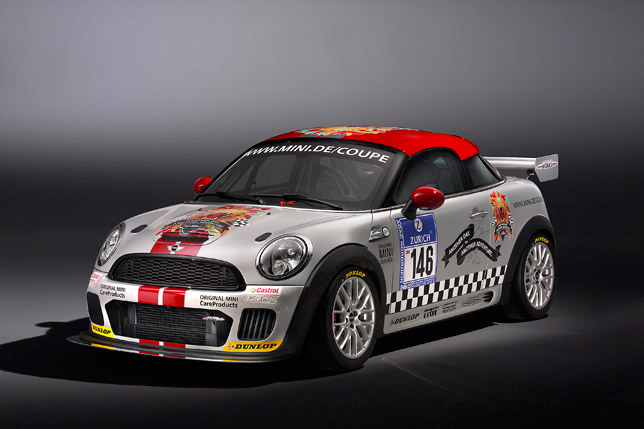 Technical data. MINI John Cooper Works Coupé Endurance
Engine
Tuned version of series-produced MINI John Cooper Works engine with adapted engine management. Four-cylinder in-line engine (front/transverse-mounted) with twin-scroll turbocharger and petrol direct injection. Racing exhaust system
Displacement
1,598 cc
Output
Approx. 184 kW / approx. 250 hp
Max. torque
Approx. 330 Nm (incl. Overboost)
Top speed
> 240 km/h
Power transfer
Front-wheel drive, sequential six-speed gearbox with electronic differential lock
Suspension
Independent race suspension (KW Suspension) with adjustable compression and rebound, adjustable front strut brace
Tyres
Racing tyres (Dunlop) / slicks: 215/45 R17, wets: 205/620 R17, 17-inch racing rims (Borbet)
Body
John Cooper Works Aerodynamics Package, adjustable rear wing, rear diffuser acc. to regulations, pneumatic jack
Safety
MINI Challenge braking system with Race ABS, race-tuned DSC, welded-in roll cage, six-point safety belt, racing seat (Recaro) with HANS system, main switch concept with electronically controlled fire extinguishing equipment
Interior
Racing steering wheel (Sparco), Drive Data Display with shift display
Weight
965 kg
Wheelbase
2,467 mm
Tank capacity
100 litres
Source: MINI