2012 MINI Roadster: the first open-top two-seater model
2012 MINI Roadster will be launched this spring. It is the first open-top two-seater in MINI history and aims to bring more elegance, sportiness and compactness to the customers. Next to the stylish exterior design, the vehicle is also equipped powerful engine and precision suspension.
MINI has made a significant reproduction of its hallmark design language within the proportions of a roadster, bestowing on the open-top two-seater. Moreover the MINI Roadster's soft-top can be easily opened by hand. In addition, the car has a 240-litre boot which offers versatility of loading options. The padded stainless steel roll-over bars and the windscreen frame are making the MINI look even more elegantly, while at the same functioning in safety terms.
What is more here, are the powerful engines in tandem with precisely tuned suspension systems. The front-wheel drive works in collaboration with the chassis technology thus ensuring excellent driving fun. In addition there is also included a standard-fitted Dynamic Stability Control system and optimal aerodynamics. And can you believe that even with the top down the MINI Roadster reaches 80 km/h (50 mph). This is due to the active rear spoiler.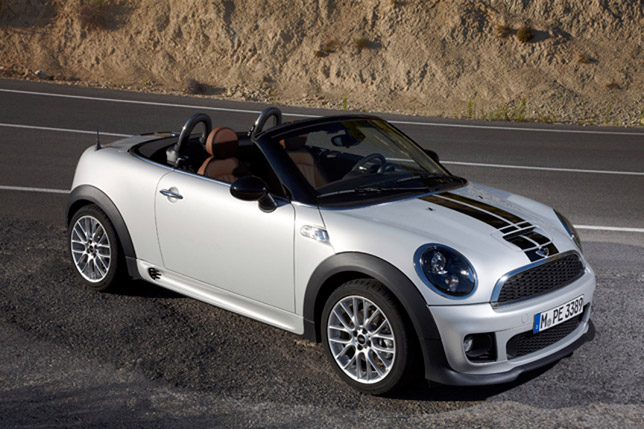 The new MINI Roadster comes with an enhanced range of standard equipment, which features air conditioning, electrically adjustable exterior mirrors, Park Distance Control, height-adjustable seats and an MP3-capable audio system with CD player and AUX IN connection. The paintwork on the front of the exterior has a palette of two non-metallic and six metallic shades to choose from, as well as three Sport Stripes variants for the bonnet, boot lid and rear aprons. The soft-top is of course in black. On the other hand, on the inside, the MINI Roadster delivers again a big range of design options, with seat and upholstery variants ranging from sporty, to compact, to elegant. They include exclusive piped sports seats in the color shade Toffy, as well as black sports seats in Punch Leather with beige perforations, and any of six different trim strip options.
The model variants which are going to be available on the market are in four sporty versions, which feature: the ultra-sporty MINI John Cooper Works Roadster with a handsome 211 hp (157 kW), the elegant MINI Cooper S Roadster, the MINI Cooper Roadster, and MINI Cooper SD Roadster, which requires just 4.5 litres of fuel per 100 kilometres (62.77 mpg imp)!
Source: MINI