2012 MINI Roadster by Franca Sozzani supports the Life Ball in Vienna
2012 MINI Roadster by Franca Sozzani is the lasted design concept which however has some unique qualities and is made with an aim of a special contribution.
For eleven years already, MINI brand has been a partner of the Life Ball, which annually takes place in Vienna. What is very specific about this event is that every year one special design comes under the imagination of a renowned designer to support the event.
For the 20th anniversary of the Life Ball the tradition is continued, with the donation of a vehicle which has been creatively transformed by an international celebrity. All the proceeds of this car will go to projects fighting HIV and AIDS.
In details, all in all the auctioning of these one-of-a-kind MINI models has accumulated inclome of more than 500,000 euros for this charitable purpose.
It is important to mention as well that these models have been designed in previous years by international fashion designers like: Joseph Corré for Agent Provocateur, Donatella Versace, Renzo Rosso for Diesel and Missoni, Mario Testino and The Blonds for Katy Perry.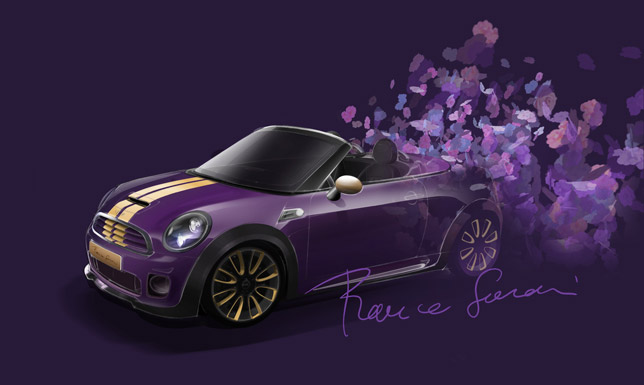 The latest Life Ball MINI is created by the gifted Franca Sozzani, who is the chief editor of Italian VOGUE and UN Goodwill Ambassador for Fashion 4 Development.
He describes the creative process and speaks about the inspiration which has provoked this unique design the following: "I thought at MINI as a beautiful woman who put a scarf on her head when she drives a Roadster."
The Deepest Purple matt paintwork gives the MINI Roadster a thoroughly unmistakable look as are doing floral motifs and mannequins. Nevertheless the highlight of this year's Life Ball MINI is the floral design on the roof of the MINI Roadster.
As you can see there are also added some steel-coloured accents on the exterior mirrors and alloy wheels. The typical MINI rally stripes are also in the same colour and they elegantly round off this unusual colour concept.
On the other hand the interior of the car is said to include the highest-quality of materials and a sophisticated seat design.
2012 MINI Roadster by Franca Sozzani will be auctioned in the Hall of Ceremonies at Vienna's Hofburg palace as part of the AIDS Solidarity Gala.
Source: MINI