Mitsubishi Adds SWB Barbarian To Shogun Line-Up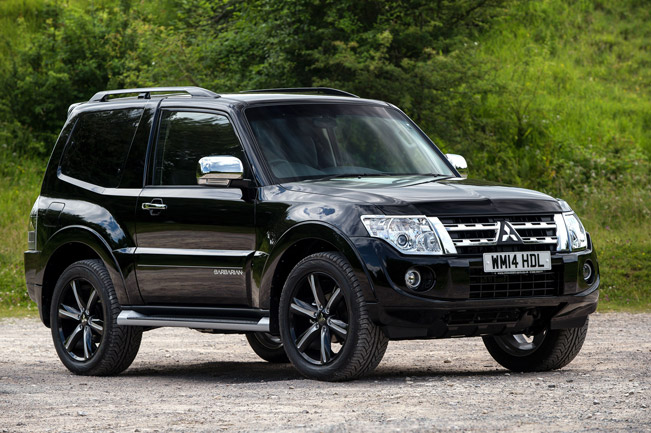 2014 Mitsubishi Shogun SWB Barbarian is the latest addition to the Shogun line-up. The SWB in the name of the car stands for short wheel base. The Barbarian edition is an example of the progressive evolution of company's classic off-roading design philosophy. In addition, the vehicle combines four-wheel drive go-anywhere ability with bold and muscular styling. The Shogun has unique styling cues and it is instantly recognizable by its aggressive front grille. The latter incorporates a short front overhang, upright windscreen, strong high flanks, flared wheel-arches and rear-mounted spare wheel.
SWB Barbarian sits above the Shogun Warrior and includes additional features. It runs on 20" gloss black / silver dual colour Le Mans alloy wheels, and can be ordered in one of the following four exterior colors: the metallic Eiger Grey and Cool Silver, the pearlescent Black Pearl and the solid Frost White.
Inside, the new derivative includes L200 Barbarian style leather interior with carbon inserts, DAB digital radio, colour coded spare wheel cover and alloy pedal kit.
The only engine on offer is the 3.2-litre diesel one. It produces 197 horsepower (147 kW) and 441 Nm (325 lb-ft) of torque. It can be coupled with a five-speed manual or a five-speed automatic transmission. Performance:
| | | | |
| --- | --- | --- | --- |
| Engine type | In line4 cylinder 16-valve DOHC common rail diesel engine, turbocharger with intercooler | In line4 cylinder 16-valve DOHC common rail diesel engine, turbocharger with intercooler | |
| Fuel system | Electronic common rail direct injection (DI-DC) | Electronic common rail direct injection (DI-DC) | |
| Fuel type | Diesel | Diesel | |
| Displacement cc | 3200 | 3200 | |
| Bore/stroke mm | 98.5 x 105 | 98.5 x 105 | |
| Compression ratio | 16.0 : 1 | 16.0 : 1 | |
| Max. output kw (bhp) at rpm | 147 (197) / 3800 | 147 (197) / 3800 | |
| Max. torque Nm (lb.ft) at rpm | 441 (325) 2000 | 441 (325) 2000 | |
| Acceleration 0-62 mph secs | 10.4 | 9.7 | |
| Maximum speed mph (kph) | 111 (180) | 111 (180) | |
| Alternator V/A | 12 - 130 | 12 - 130 | |
| Battery (12v) type | 80D26L | 80D26L | |
Emissions And Economy:
| | | | |
| --- | --- | --- | --- |
| Co2 emissions g/km | 216 | 207 | |
| Vehicle excise duty band | K | K | |
| Vehicle excise duty - 1st year fee | £635 | £635 | |
| Emission compliance | Oxidation catalytic converter + closed flow D.P.F | Oxidation catalytic converter + closed flow D.P.F | |
| BIK tax band 2014/15 tax year | 35% | 35% | |
| Economy - urban lts/100km (mpg) | 10.0(28.2) | 9.5(29.7) | |
| Economy - extra urban lts/100km (mpg) | 7.2(39.2) | 6.9(40.9) | |
| Economy - combined lts/100km (mpg) | 8.2(34.4) | 7.8(36.2) | |
Source: Mitsubishi