Mopar and Ram showcase the mighty Mopar'16 Ram Rebel. Details here!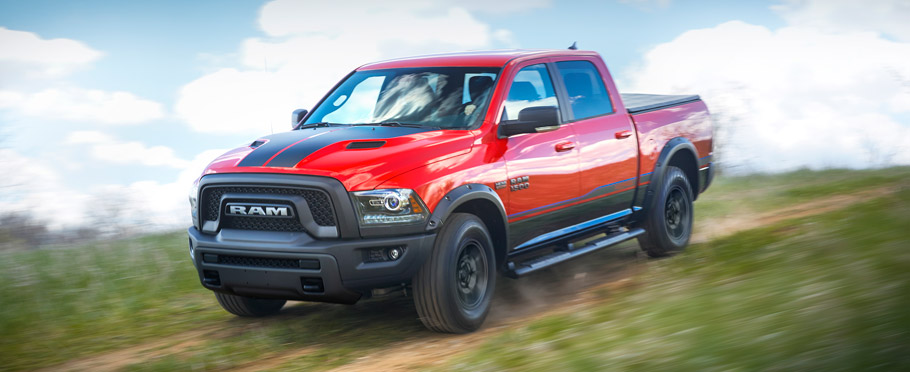 Ram Truck and Mopar together announced the introduction of the Mopar'16 Ram Rebel, a limited-edition vehicle, created by using tons of exclusive parts and components. There will be 500 units that can be further tweaked by Mopar Custom Shop options.
This Mopar-Ram creation is, in fact, the first Mopar-tweaked vehicle in the truck segment. Of course, there are numerous more Mopar tweaked vehicles as Mopar '10 Dodge Challenger, Mopar '11 Charger, Mopar '12 Chrysler 300, Mopar '13 Dart, Mopar '14 Challenger and Mopar '15 Charger R/T and now the Mopar'16 Ram Rebel will proudly stand by them.
Based on the Ram 1500 4x4 Rebel Crew Cab, the limited vehicle comes with tons of aluminum components as a dual bezel sport performance hood, neat off-road wheels that not only contribute to the muscular stance, but also enhances the stability and off-road capabilities.

Also, part of the standard features are the skid plate for the power steering box and the black front bumper skid plate, 17-inch satin black wheels, serialized Mopar'16 glove box badge and a set of stainless-steel door sills.
SEE ALSO: Afzal Kahn does his magic on a Wrangler Sahara to create something spectacular
In terms of performance, we did not expect anything different rather than muscles and power. The 5.7-liter HEMI power unit is mated to a eight-speed TorqueFlite automatic gearbox. There are also front suspension skid plates, black turbular side steps, spray-on bedliner and tri-fold tonneau cover.

Also, as with previous limited Mopar editions, the Ram Rebel comes with custom owner's kit with Mopar'16 merchandise, a brochure and special metal birth certificate with all the truck's specifications, date of manufacture and proprietary number.
Available later this summer, the Mopar'16 Ram Rebel will have a starting price of $52,460 USD.
Source: Mopar