Mopar Ram Runner Wins Truck Duel in Desert
What you're looking at is a "Moparized" Ram Truck 1500 which recently won a time-trial showdown against a Ford SVT Raptor. We are talking hardcore off-road stuff here as the challenge was conducted at the Ocotillo Wells State Vehicular Recreation Area, Southeast California – acres of dirt, mud and twigs. A 4.73 mile evaluation loop was set up by representatives from PickupTrucks.com and, with the help off-road truck racing champ Chad Ragland, both of the pickups were tested to their limit.
The Ram Truck then – it has a Mopar Runner kit which consists of a Pre-Runner Stage II Lift kit, an off-road fron bumper, front and rear fenders, a rear-tire carrier, sport performance hood and a cat-back exhaust.
The beefed up suspension is one of the most visible aspects of the Ram though – at the front, the upper and steel lower control arms are three inches longer each. Hence the wider wheel track. Heavy-duty outer tie roads size up to 1 inch in diameter. At the same time, the inner rods are as much as .13 inches beefier than the production ones. At the back, a 5-link coil spring rear suspension comes in handy when departure angles of up to 30 degrees take place. The Pre-Runner Stage II kit gives around 14-inches of overall ground clearance and utilizes Fox 3-inch internal bypass shocks.
The front bumper is all steel and has an integrated skid plate. The new fenders are from fiber glass and are more flarey in order to accommodate the wider track. The hood, although made of aluminum, is mostly for show. A spare-tire carrier in the bed of the truck proves more accessible and functional.
The whole kit costs at around $21,000 but Mopar are selling separate upgrades as well.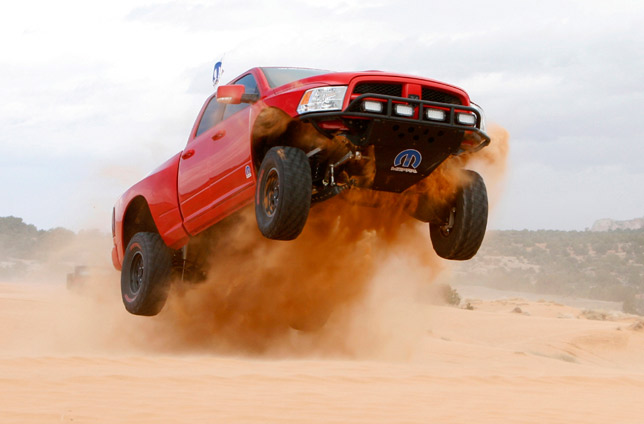 Source: Dodge