Motion Phase III 427-SC Camaro Supercar
A new powerful 2011 Chevrolet Camaro was introduced at the Super Chevy Show at the Palm Beach, Florida International Raceway. The project name is 2011 MOTION Camaro Phase III 427-SC and it is a result of the hard work of Joel Rosen and Howard Tanner of Redline Motorsports.
The vehicle is powered by GM LS7 427 aluminum-block engine fitted with an enormous 2.8 liter Twin-Screw Supercharger System. In case you don't remember, 427 cubic inches are almost 7.0 liters of displacement, which is enough for 811PS (597 kW).
The 2011 MOTION Camaro Phase III 427-SC will be limited and the price is "just" $150 000.
"Back in the day we built record-setting 500-horsepower big-block Camaros and backed them up with warranties. My new 427-SC delivers 300 more horsepower, imported Supercar handling and braking, plus incredible comfort and convenience features. And, it has a one-year, 12,000-mile warranty," commented Joel Rosen.
Check out the specs, below!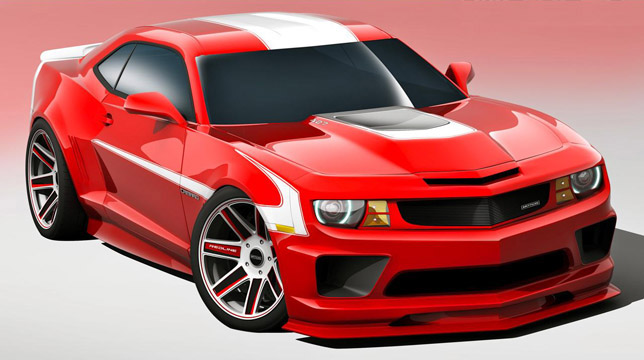 MOTION PHASE III 427-SC CAMARO SUPERCAR - 800HP SUPERCHARGED
Supercharged GM LS7 427 Aluminum Engine
2.8-Liter Twin-Screw Supercharger System
Eight-Rib supercharger drive assembly
Unique block, 4.125-inch bore, pressed-in liners
Forged 2618 Aluminum 9.3-to-1 pistons
Forged 6.125-inch H-Beam Steel connecting rods
Forged 4.00-inch stroke steel crankshaft
Race-prepped CNC-ported Aluminum heads
Custom Redline R3-SC Blower camshaft
ATI/Redline damper
American Racing High-Efficiency tubular exhaust system
MBRP Stainless Steel mufflers, dual outlets
High-Capacity air intake system
160-degree high-flow thermostat
Custom calibrated Engine Management System
High-Capacity fuel system
Upgraded TR6060 Six-Speed manual transmission (ONLY)
ZR1 Corvette dual disc clutch system
MGW short throw shifter
1,000 Horsepower axles
Pfadt Billet rear cradle mounts
Pfadt differential bushings
Pfadt trailing arms & tie rods
Pfadt Coil-Over F&R Suspension
Pfadt F&R sway bars
Brembo Six-Piston Monoblock front brakes with 380-mm two-piece rotors
Brembo Four-Piston Monoblock rear brakes with 380-mm two-piece rotors
Custom MOTION painted striping
Custom MOTION wheels with painted accents
Custom Phase III-SC Hood with glass window
Aggressive front fascia with air intake inlets
Phase III-SC Rear Spoiler
MOTION badges & VIN plates
Accented front and rear seats with embroidered headrests with Carbon Fiber finish
1-Year/12,000-Mile Warranty
Source: Official Baldwin Motion