Mustang Celebrates 45 Years as King of the American Road
It was 45 years ago this week that marked the birth of the undisputed king of the American road: the Ford Mustang. And thousands of Mustang fans from all over the world are gathering in Birmingham, Ala. to mark the occasion.
"The Ford Mustang is one of the world's most beloved automotive and cultural icons," said Jim Farley, Ford Group Vice President of Marketing and Communications. "Since April 17, 1964, it has been a symbol of American freedom and fun."
Ford and the Mustang Club of America are commemorating the birth of America's favorite pony car with a four-day celebration at the Barber Motorsports Park. The event is expected to draw more than 2,500 Mustang enthusiasts and their beloved steeds, as well as hundreds of thousands of spectators. Included among those enthusiasts are nine of the muscle car's most enduring fans: original owners of the 1964½ Mustang.
"People come up to the car and they don't believe that I'm the original owner," said Phil Florio, of Summerfield, Fla., about his Wimbledon White 1964½ Mustang Coupe. "I knew from day one that it was going to be a very special vehicle. A lot of car manufacturers have come out with their own particular type of pony car, but there's only one 'first.'"
Laki Malamatenios drove his Poppy Red 1964½ Mustang coupe all the way to Alabama from his home in Grass Valley, Calif. to take part in the 45th anniversary festivities.
"My 'Poppy' is something special," he said. "This car is a chronicle of my life with my family – some happy memories, some sad, but always interesting. Whenever I drive it, my whole life flashes before my eyes."
A host of exciting events are planned for the 45th anniversary celebration. For example, professional road racers – including four-time Mustang champion and SPEED TV personality Tommy Kendall – will be on site to provide hot laps for lucky attendees around the park in Mustang FR500S race cars. And world champion drifter Vaughn Gittin, Jr., will be on hand all weekend to give demonstrations and rides.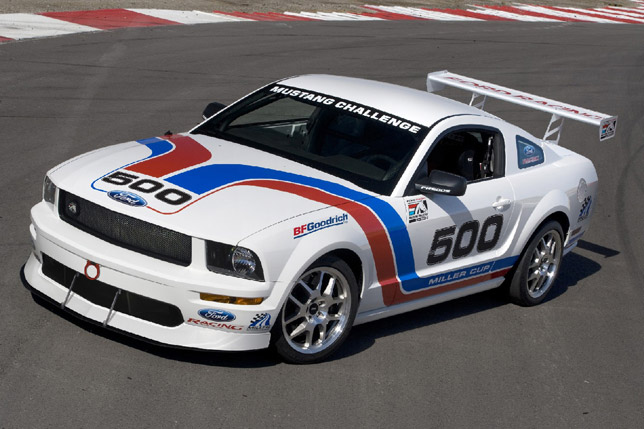 "Whether you're a casual observer interested in seeing the latest model Mustang or a true fanatic who eats, sleeps and breathes Mustang, this is where you want to be to celebrate the 45th anniversary," said Steven McCarley, president of the Mustang Club of America.