New Honda Accord features multiple feature upgrades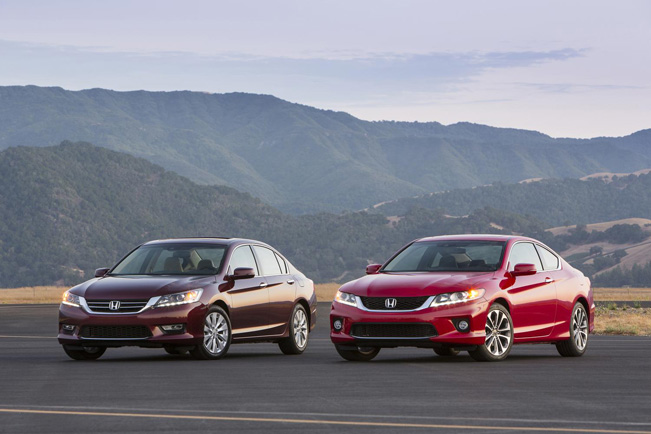 Today is a big day for Honda fans around the world due to a simple reason – the 2015 Honda Accord Sedan and Coupe begin to go on sale. Both vehicles are complemented by the all-new 50-mpg-rated Accord Hybrid and are sure to make a splash on the market with a combination of quality and new features.
Despite the fact that the Accord Sedan and Coupe are already very well equipped, they come with some more feature upgrades for the year 2015. Both 4-cylinder Sedan and Coupe EX-L and EX-L Navi equipment levels include the HomeLink universal remote system that can be programmed with the codes of up to three devices such as a garage-door opener or home security system. The 2015 Accord EX Coupe with a 4-cylinder engine gets the Honda LaneWatch display that makes use of a camera and an in-dash display to provide an enhanced view of the passenger-side roadway. All 2015 Accord EX-L models and Coupe vehicles also come with an auto dimming rearview mirror.
The two models are driven by modern and powerful engines that feature improvements as well. There is a choice between two engines, based on Earth Dreams Technology – a 2.4-liter i-VTEC engine with direct injection and 185 horsepower (136 kW) and a 278-horsepower (204 kW) 3.5-liter VTEC V6 engine with Variable Cylinder Management (VCM). The first engine delivers 189 horsepower (139 kW) in the 2015 Accord Sport Sedan model.
The first 4-cylinder engine can be had with a continuously variable transmission (CVT) or 6-speed manual (6MT) and reaches 36 US mpg (6.5 liters per 100 km) highway rating while the second V6 engine can be had with a six-speed automatic (6AT) transmission with a 34 US mpg (6.9 liters per 100 km) highway rating. The V6 Coupe models can be equipped with either the 6AT or a 6-speed manual with the 6AT transmission/engine combination reaching 32 US mpg (7.3 liters per 100 km) highway rating. The 2015 Honda Accord hybrid is powered by Honda's Intelligent Multi-Mode Drive (i-MMD) two-motor hybrid system that transitions seamlessly between electric motor power, gasoline engine power and hybrid gas-electric propulsion, delivering power to the wheels without the need of a conventional transmission. This elegant powertrain helps the Accord Hybrid earn a 50 US mpg (4.7 liters per 100 km) EPA city rating.
The 2014 Accord received numerous accolades, including an unprecedented 28th Car and Driver "10 Best" title, as well as an Automobile Magazine "All-Star" award and "Best Family Car" award from Parenting magazine and Edmunds.com. Kelley Blue Book's KBB.com named the Accord a "Best Resale Value" vehicle and recognized it as having the lowest cost of ownership for a midsize sedan over a projected 5-year period. Included in the awards given to the 2014 Accord Hybrid were a MotorWeek "2014 Driver's Choice Award," a KBB.com "10 Best Green Car of 2014" award and a naming to Green Car Journal's "Top 10 Green Car Technology List for 2014."
Source: Honda