Nissan Announces Lowest-Priced New Car In The U.S.
Nissan North America, Inc. (NNA) announced a new 2009 Nissan Versa Sedan 1.6 model, which features a starting Manufacturer's Suggested Retail Price (MSRP)* of $9,990* (excluding Destination and Handling). The new Versa focuses squarely on value and fuel economy, with its standard 107-horsepower DOHC 16-valve 1.6-liter inline 4-cylinder engine delivering responsive performance and a 34 mpg highway fuel economy rating (with the 5-speed manual transmission).
The Versa Sedan 1.6 goes on sale at Nissan dealers nationwide beginning November 18, 2008.
"Starting under $10,000, this new Versa Sedan 1.6 has the lowest new-car MSRP in the United States," said Brian Carolin, senior vice president, Sales and Marketing, NNA. "It combines the low price of a used car with the dependability, high quality and full factory warranty of every new Nissan. It's our way of saying that in tough economic times, Nissan is here to help."
Since its introduction in 2006, Nissan Versa has enjoyed strong appeal in the marketplace among buyers seeking fuel efficiency without sacrificing performance or roominess. Versa offers one of the highest standard horsepower/torque ratings and the largest interior in the entry-level segment – along with excellent quality, reliability and durability.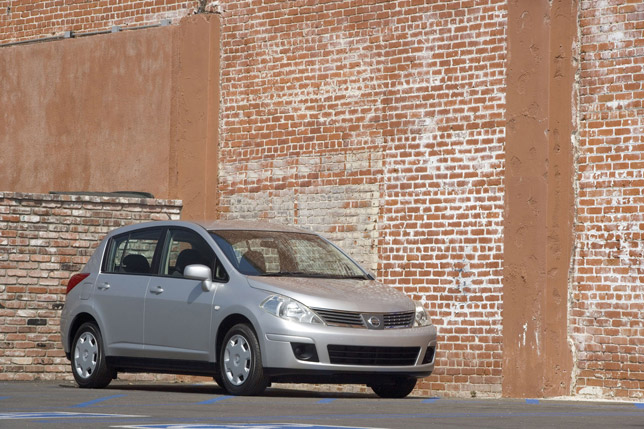 The new high-value Versa Sedan 1.6 model features a smaller displacement 1.6-liter engine (versus the standard 1.8-liter), standard 5-speed manual transmission and simplified content. It is also available with a 4-speed automatic transmission. Fuel economy is rated at 26 mpg city/34 mpg highway with the 5-speed manual and 26 mpg city/33 mpg highway with the 4-speed automatic.
"The new Versa Sedan 1.6 is another way in which Nissan is taking a leadership role in reassuring consumers that now is a great time to consider a new car," said Carolin.
In North America, Nissan's operations include automotive styling, engineering, consumer and corporate financing, sales and marketing, distribution and manufacturing. Nissan is dedicated to improving the environment under the Nissan Green Program 2010, whose key priorities are reducing CO2 emissions, cutting other emissions and increasing recycling.