Nissan Juke Nismo Concept
Nissan will reveal Juke Nismo at the 42nd Tokyo Motor Show, next month. With its distinctive styling Nissan Juke has redefined the highly competitive B-segment, but the Juke Nismo Concept is even more dramatic. The crossover is lower, wider and has a meaner stance. Even standing still, it's clearly a performance car.
"The global sales success of Nissan Juke has proved beyond doubt that customers are looking for something different," said Andy Palmer, Executive Vice President, Nissan Motor Co., Ltd.
"The Juke Nismo Concept takes that idea to the next level. It's energetic, distinctive and highly desirable.", he added.
The Juke Nismo Concept comes with a complete body kit giving the car not only better look, but some performance, too. It consists of a new front and rear bumpers, wider fenders and sill side skirts. The grille pattern has been changed while the tailgate spoiler has been modified by the addition of side elements to control airflow more efficiently. Even the shape of the door mirrors has been altered to enhance the car's aerodynamic performance and reduce front and rear lift without increasing drag.
Nissan Juke Nismo stands on 19" alloy wheels fitted with low-profile performance tires. There are also improvements in the suspension, which is lowered and the 1.6-litre direct injection turbo gasoline engine has been uprated to deliver more power and performance.
The interior boasts a new steering wheel, pedals, gauges, shifter knob and door trims. Further underlining the performance aspects of the car, special leather-trimmed bucket seats have been added while the importance of the tachometer means the dial and needle are illuminated in red.
A feeling of enhanced sporting quality in the cockpit can be attributed to a toned-down effect applied to previously light coloured surfaces, while the dramatic centre console - shaped to resemble a motorcycle fuel tank - has been given a metallic coating to enhance the purposeful feeling of the Concept.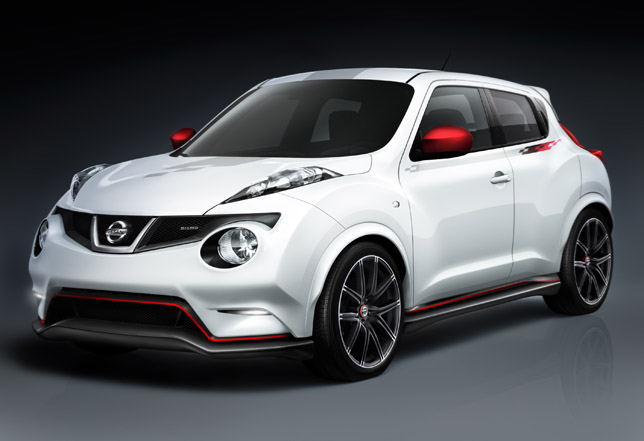 Source: Nissan