Oaktec Honda Insight Hybrid Rally Car
No, its not a bad joke. Actually, Oaktec Honda Insight Hybrid Rally Car is a 100 mpg automatic hybrid eco sports car, which has been banned from rallying for being too fast. We imagine the disappointment of the engineers…
The petrol-electric Honda Insight hybrid, which competes in the Formula 1000 rally championship, has been asked to withdraw following concerns from rival competitors that it has an unfair advantage, after dominating the 2011 series with two wins and a second place from the first three rounds.
Oaktec Honda Insight Hybrid Rally Car is powered by a tuned petrol-electric hybrid system, which easily achieves 100 mpg when driven slowly.
"It was a bit of a shock when I got the call as after six years of hard work we finally had our chance for a bit of glory. But I fully understand the perspective of the organisers and their wish not to spoil the sport for the other drivers. Formula 1000 is a great championship and they were really supportive by allowing us to compete with these new hybrid technologies in their rallies and we always agreed that if we had a clear advantage we would step aside. It's a shame it had to happen mid-season but it's the risk you face in going against the grain and trying something radical. If it fails, no one notices; if it's successful, you have an unfair advantage. I think our project has made people realise that there is a real future for genuinely green technologies in motorsport and other leisure activities.", said Oaktec boss Paul Andrews.
The tuned Honda hybrid system, Oaktec entered the rally car in a fuel economy competition and returned 82 mpg, beating the next best car, a small diesel, by over 17 mpg. Furthermore, the car is unique in motorsport because it uses a CVT automatic transmission developed by Bosch, who also sponsor the car.
You can see the Oaktec Honda Insight hybrid in action, along with other banned Group B rally cars, at Green-Car-Guide Live! at the Cholmondeley Pageant of Power, 15-17 July 2011, in Cheshire.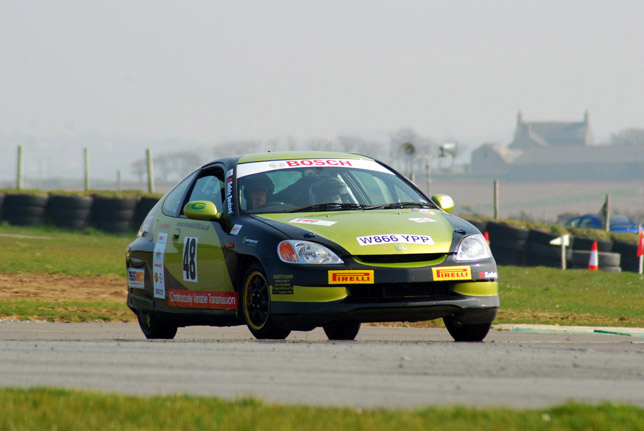 Source: Honda