Official Debut: 2013 Porsche 911 RSR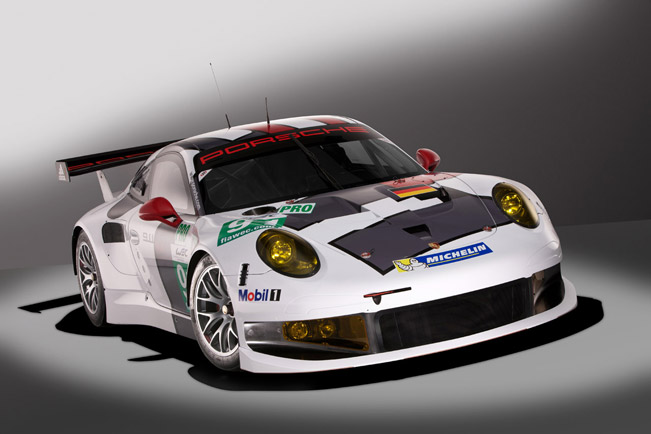 2013 Porsche 911 RSR is brand's new GT race car for the World Endurance Championship (WEC) and the Le Mans 24 Hours. The new 911 RSR race car will be competing in the WEC LM-GTE class, and it is characterized by significant lightweight design and exceptional aerodynamics.
What is more important here is that this exceptional model honors a very special anniversary: 50 years of the Porsche 911. The Porsche AG Team Manthey works squad will enter two Porsche 911 RSR race cars in the World Endurance Championship's 2013 season including the 24 Hours of Le Mans. Unfortunately, the model won't compete in the North America series for 2013.
2013 911 RSR is based on the seventh generation of the iconic 911 sports car. However, here the wheelbase grew by about ten centimeters. In addition, there is a new wishbone front suspension that replaces the formerly utilized McPherson struts.
What is also new is the lightweight racing gearbox. Next, the six gears are selected via paddles on the steering wheel; and the 4.0-litre six-cylinder boxer engine delivers 460 hp (338 kW). What is more important however is to highlight that the weight distribution here has been balanced more evenly.
Moreover, the center of gravity is also lower than that of its predecessor. Some high-quality materials, such as carbon fiber, have played a crucial role in the new Porsche model as well. On the other hand, the front and rear mudguards, front and rear lids, doors, underbody, wheel arches, rear wing, dashboard and center console are constructed from the very light and strong material.
Another innovation is that all windows are made of particularly thin and light polycarbonate. This of course results in enhanced weight. Adding to the same reduction is the lithium-ion battery known from the 911 GT3 road going models.
The visual appearance of the 911 RSR includes flared mudguards and the deep cooling air intakes at the front. The radiator is now centrally-located in the front and even more effective than in the previous model, thanks to the new air ducting.
To be perfect for endurance-racing, the quick-change concept of the body parts was specially adapted. The end result is easier maintenance and shorter repair times. The front end, front lid and rear panel are fitted with quick release systems and can be replaced within seconds.
Source: Porsche