Paris Motor Show: 2013 Honda CR-Z Hybrid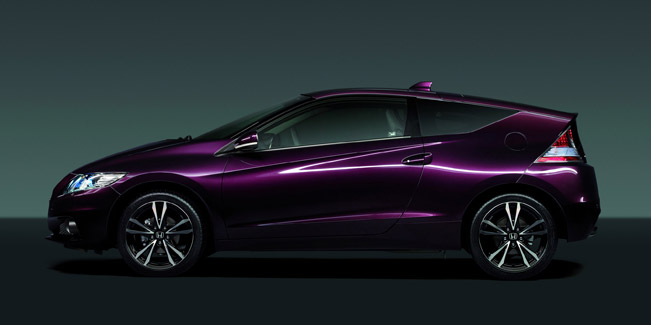 2013 Honda CR-Z Hybrid has just been unveiled at the Paris Motor Show exhibiting improvements focusing on style and performance. Some updated parts of the exterior and interior enhance the styling of the car and on the other hand the power of both the petrol engine and electric motor has been increased to 137 hp (100 kW) without comprising fuel economy or increasing exhaust emissions.
Furthermore, the car is also equipped with Lithium Ion battery and a Plus Sport (S+) boost system. Some of the changes which emphasize are the new front bumper design, which frames a revised grille, the new aerodynamic rear diffuser design and 17 inch alloy wheels.
The Honda model will be offered in two bold new colours - Energetic Yellow and Aurora Violet. The designers have also considered the interior which is now with a new colour scheme. On the other hand revisions to the door casings improve the cabin storage.
The old 1.5-litre petrol engine has been upgraded with changes to the variable valve timing system and Engine Control Unit (ECU). An anti-vibration knock sensor has been added and the material of the crankshaft has been upgraded. The peak power output has been increased from 114 hp (84 kW) to 121 hp (89 kW).
The improvements continue with the electric motor system, which is visible through the new Lithium Ion battery. The latter replaces the old Nickel-metal hybrid (Ni-MH) battery. The new version now delivers increase of power from 14 hp (10 kW) to 20 hp (15 kW).
The engine works in unison with the Integrated Motor Assist (IMA) hybrid system. The IMA now delivers a combined output of 137 hp (101 kW) at 6600 rpm and 190 Nm (140 lb-ft). To go even further into details this means that the sprint from 0 to 100 km/h for the CR-Z is possible only for 9.0 seconds. The top speed is 124 mph, while the combined consumption is 56.5 mpg and 116 g/km of CO2.
Moreover, the Plus Sport (S+) boost system works when the battery is more than 50 per cent charged. In this case the driver can activate this system using the S+ button on the steering wheel.
What happens is that when the accelerator is pressed, then the electric boost begins thus delivering increased acceleration for up to ten seconds. A flashing gauge on the dashboard indicates when the system is active. S+ can be used in ECON, Normal or Sport modes.
The revised CR-Z will go on sale in January 2013.
Technical specifications
| | |
| --- | --- |
| Engine | 1.5 SOHC i-VTEC |
| | 4 valves per cylinder |
| Bore x stroke, mm | 73 x 89.4 |
| Capacity, cc | 1497 |
| Compression ratio | 10.4 (Honda internal figure) |
| Max.Power (Engine), kW/PS | 89/121 |
| @rpm | 6600 |
| Max torque (Engine, Nm | 146 |
| @rpm | 4800 |
| Max power (Electric Motor), kW/PS | 15/20 |
| @rpm | 2000 |
| Max torque (Electric Motor), Nm | 78 |
| @rpm | 1000 |
| Max power (combined)1, kW/PS | 101/137 |
| @rpm | 6600 |
| Max torque (Combined)1, Nm | 190 |
| @rpm | 1000-2000 |
| Fuel system | Honda PGM-FI Electronic Injection |
| Fuel rating | Unleaded, 95 RON |
| Fuel Consumption | |
| Urban, mpg | 47.1 (sport) / 46.3 (GT) |
| Extra Urban, mpg | 64.2 (Sport) / 60.1 (GT) |
| Combined, mpg | 56.5 (Sport) / 54.3 (GT) |
| CO2 emissions, g/km | 116 (Sport) / 122 (GT) |
| Performance | |
| Top Speed, mph | 124 |
| Acceleration 0-62 mph, sec | 9.1 (Sport / 9.5 (GT) |
| Wheels & Tyres | |
| Wheels | 16x6J (Sport) / 17x6.5J (GT) |
| | 195/55R16 (Sport) / 205/45R17 (GT) |
| | |
Source: Honda