Peugeot 2008 Crossover climbs the Tamworth Snowdome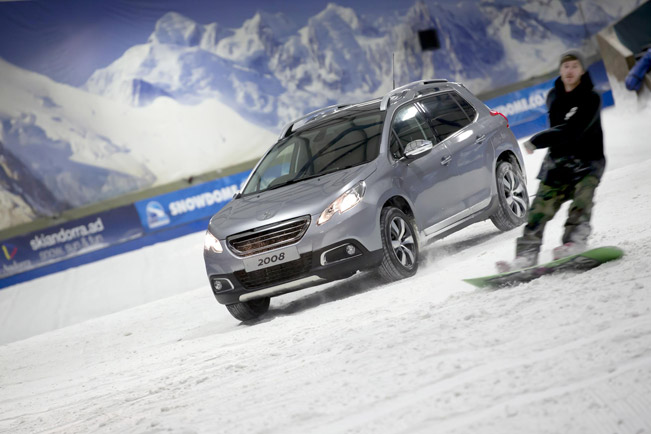 The reveal of the new 2013 Peugeot 2008 Crossover happened in the beginning of the year, and now the vehicle is currently being launched worldwide. It comes to demonstrate its capability of pioneering Grip Control improved traction technology in the most dramatic way.
Peugeot has just released a video, showing how the crossover behaves when it is driven up and down an indoor snow slope. The driving route happened at the popular Snowdome in Tamworth, Staffs, which has a 170-metre ski slope.
At first, the driving began with a car without the utilization of the Grip Control and hence the Peugeot 2008 struggled to get more than a few metres on the hard-packed snow. However, when a vehicle with Grip Control was used (Grip Control is standard on Allure and Feline trim levels with 1.6 petrol and diesel engines), the contrast in performance stood out.
Thanks to the improved traction control and all season tyres, Peugeot 2008 drove straight to the top of the slope. Another challenge was when the drivers were even encouraged to perform an emergency stop on the descent. Due to car's advanced traction system, the stop was brought quickly to a halt with the minimum of fuss.
Grip Control was especially designed for customers who have active lifestyles and drive on a big range of different surfaces thus needing more traction. The technology works through components which are to be found in the vehicle and in addition it also works on its front wheels in order to enhance confidence of driving and safety.
Furthermore, the standard mode was developed for normal road conditions and where there is a low level of skidding. Nonetheless, the Standard mode can be switched via a dial located in the centre console, to a Snow, Off-Road, Sand or ESP Off mode. The effect is high level of performance, which is usually associated with 4x4 off-road vehicles.
2013 Peugeot 2008 Crossover will be available at dealerships in mid-July.
Source: Peugeot