Peugeot 208 GTi Sport To Participate In 2013 VLN Championship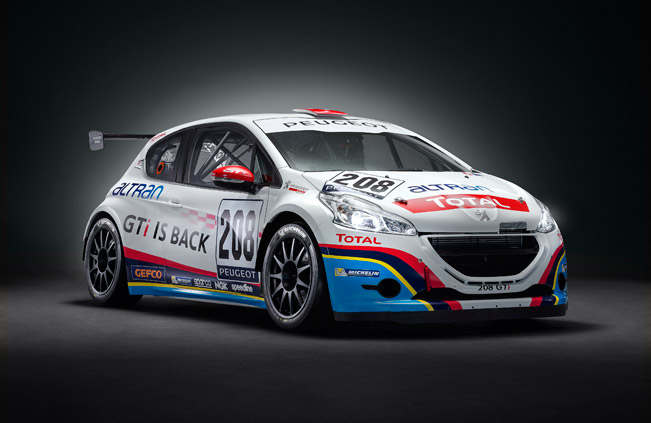 It has just been announced that the new Peugeot 208 GTi Sport is going to take part in the 2013 VLN championship. The model is the fourth race edition of the 208 model variant and includes additional beneficial features compared to the previous versions.
Its builds on its three elders - T16, R2 and Racing Cup, hence it was designed in a very short amount of time. To be more precise, the studies around it began in December last year, while the preparation of the first shell began in January 2013. Then the assembly of the 208 GTI Sport happened in February following a first drive at the end of the same month.
The model includes collection of mechanical components developed and tested for 208 T16, 208 R2, 208 Racing Cup and also for RCZ Racing Cup. The latter vehicle was a benchmark in the SP2T category in Germany with wins in the VLN, 24 Hours Nurburgring 2012 and the Bathurst 12 hours this year.
The strengths of the standard 208 GTi model are also present in the Sport modification. For example, like the GTi it is equipped with a 1600 turbo petrol engine tuned from 200 hp (147 kW) to 300 hp (220 kW). The unit is mated to a six-speed gearbox operated by paddle shifters.
Furthermore, this Peugeot runs on 18'' wheels and has reinforced braking system, 100 litre petrol tank and aerodynamics designed to take advantage from the race regulations to the limits. The overall weight of the car is of 990 kg.
Technical Specifications – Peugeot 208 GTi Sport
Engine
Type : EP6 CDT
Capacity : 1.600 cm3 turbo
Maximum power : 300 hp
Maximum torque : 36 m.daN
Fuel capacity : 100 litres
Fuel system : Magneti Marelli high pressure direct injection
Electronics
Engine management ECU : SRT Magnetti Marelli + data acquisition
Display screen : Couleur Magnetti Marelli
Transmission
Gearbox : 6-speed + sequential control via steering-mounted paddles
Clutch : Push mechanism, two disc ceramic/metal 184 mm
Brakes / Steering
Front brakes : 355 dia x 28mm ventilated discs / 6-piston calipers.
Rear braked : 290 dia x12mm non-ventilated discs/ single-piston calipers.
Front/rear brake distributor
Steering : Rack and pinion with hydraulic power assistance
Suspensions
Front suspensions : pseudo McPherson, specific lower arms with ball joints
specific front anti-roll bar on plain bearings, specific struts: forged
aluminium (camber adjustment at the swivel).
Rear suspensions : "H" reinforced axle and modified for interchangeable anti-roll bars
Front and rear dampers: specific 3-way Цhlins + adjustable hydraulic bump stops
Chassis
Structure : Bodyshell reinforced with multi-point welded roll-over bar (FIA
standard)
Openings : Doors, bonnet and tailgate in composite material
Windows : Polycarbonate side windows and rear screen
Weight : 990 kg
Front/rear distribution : 63% / 37%
Dimensions
Length / width : 3.962 mm / 1.820 mm
Wheelbase : 2.560 mm
Wheels
Wheels / tyres : Slicks 245/65-18 – Rain 245/64 - 18
Aerodynamics
Flexible vertical front blade
1440mm rear spoiler meeting the VLN regulations
Rear diffuser
Source: Peugeot