Peugeot Reveals the Definitive Combat Livery of 2008 DKR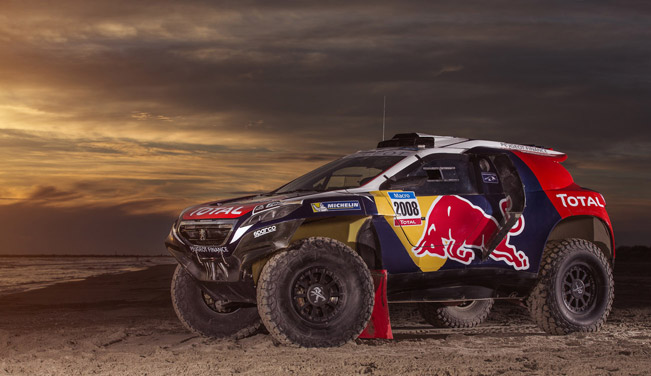 Peugeot has shown the 2015 Peugeot 2008 DKR livery which will compete in the Dakar rally in more than a month. The event will start on 4th of January. The car has traded its initial all-carbon finish for its official colour scheme and is fully prepared to take on its 4x4 rivals. The vehicle has a racier look based on a combination of blue, white and red. In fact, the part around the cockpit, which is white, is a perfect way to protect the people inside from the heat.
2008 DKR was revealed in April and it will be driven by Carlos Sainz and Cyril Despres during the competition that starts on January 4. It is powered by a V6 twin-turbodiesel engine which produces 340 horsepower (254 kW).
Recently, Peugeot 2008 DKR has covered thousands of kilometres in Morocco, thus showing results of the test programme that reveal that the technical concept is well founded. Carlos Sainz stands fully behind the Peugeot 2008 DKR's technical concept. He says that the concept works well and the test programme has shown a very fast machine.
There are only 48 days to go until the start of January's Dakar. This actually means that the team is currently facing a busy final countdown. On November 20, the service trucks which carry the necessary equipment and spares will be loaded onto the ship that will take them to Argentina. What follows is the build of three rally cars and a final test in Morocco at the beginning of December.
Source: Peugeot