Peugeot 2008 DKR for 2015 Dakar Rally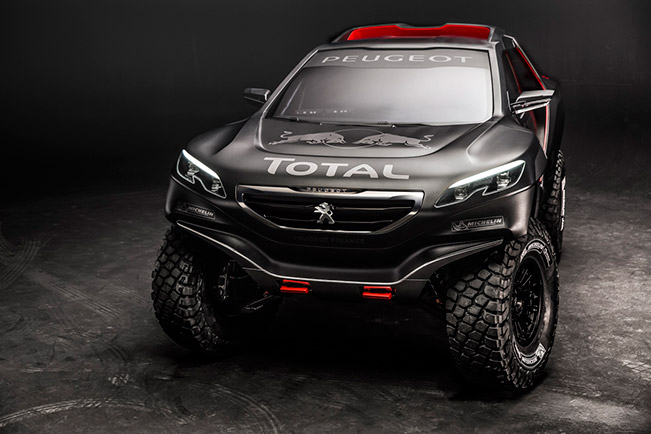 Peugeot has unveiled the 2008 DKR Race Car, which will compete in the world's most tough challenge – 2015 Dakar Rally. The extremely muscular vehicle will be driven by Carlos Sainz and Cyril Despres, who will defend the colours of Team Peugeot Total on next January's Dakar.
The French manufacturer makes a return after 25 years with a 2008-based racer, which looks quite aggressive. It rolls enormous 37" (94 cm) off-road Michelin tires and has received a large rear wing while the rear doors were removed. There is also a short front overhang to allow a high approach angle.
Still there, are no further details except that the vehicle will have a two-wheel drive layout and all the necessary improvements to comply with Dakar's regulations. The 2008 DKR's breath-taking forms are sure to cause a stir even before the new car starts to kick up dust as it begins to be put through its paces in the colours of Red Bull and Total.
Peugeot 2008 DKR will be exhibited at the 2014 Beijing Motor Show.
"We provided Peugeot's Style Centre with a very precise brief," commented the Project Leader at Peugeot Sport, Jean-Christophe Pailler.
"We supplied them with the basic key dimensions, as well as other information such as the cabin space we required, plus the wheel size and the suspension travel. They also had aerodynamic data resulting from our early simulation work.", he added.
Source: Peugeot