Phantom Black Panther: OK-Chiptuning Audi R8 V10 Coupe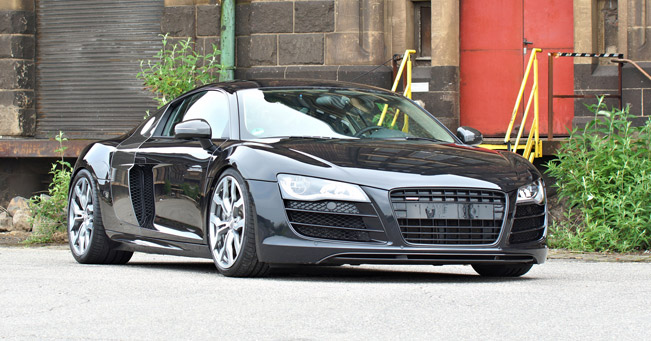 Phantom Black Panther is the latest project of the tuning professionals at OK-Chiptuning, which this time have enhanced the emblematic Audi R8 V10 Coupe. They have enhanced the model in terms not only of visual characteristics but also of performance.
First of all they have equipped the Audi with phantom black metallic carbon-front lip and rear diffuser. The taillights have been changed and now resemble those of the R8 GT. Furthermore, the radiator grill is painted in carriage color.
In this tuning can also be seen the KW-thread springs with "magnetic ride". They have the ability to adapt their hardness in fractions through a magnetic field of the current driving situation within seconds.
However, the main focus of OK-Chiptuning was the engine. The modifications done on the unit, gear box as well as the associated software, result in more power delivery. The original engine generates 520 hp (382 kW) and 530 Nm (391 lb-ft) of torque.
Nevertheless, through software- optimization, the Audi R8 V10 now is able of producing 620 hp (456 kW) and 570 Nm (420 lb-ft). In addition, thanks to the support of flaps exhaust system the mid-engine-Audi lies down the sprint from 100 to 200 km/h in just 6.9 seconds. What is more, the software optimization of R tronic done by the team at Kai Uwe OTTLINGHAUS offers a significant reduction of switching times.
Source: Miranda Media