PIECHA with Evolutionary Design for the Jaguar F-Type

This week's project by PIECHA Design involves the mighty Jaguar F-Type. This time under the spot isn't the roadster but the coupe. The unique interpretation of the famous car is called "Evolution" because it brings the iconic British car to the next level. Although there isn't any change to the 3.0-liter V6 engine, the car looks sportier than ever and creates the feeling of more athleticism.
There are several reasons for this. First of all, the motorsport expression of the Jaguar is strengthened by new aero front spoiler and side sills. In addition to this, PIECHA designed a larger rear diffuser, which was then framed by a color-coded undertray.
SEE ALSO: Tailor Made F-Type Roadster Released by PIECHA Design 
It featured an extended frame to improve the stability of the car and to further reduce drag. What is more, the big exhaust outlets are accompanied by stainless steel grille inserts.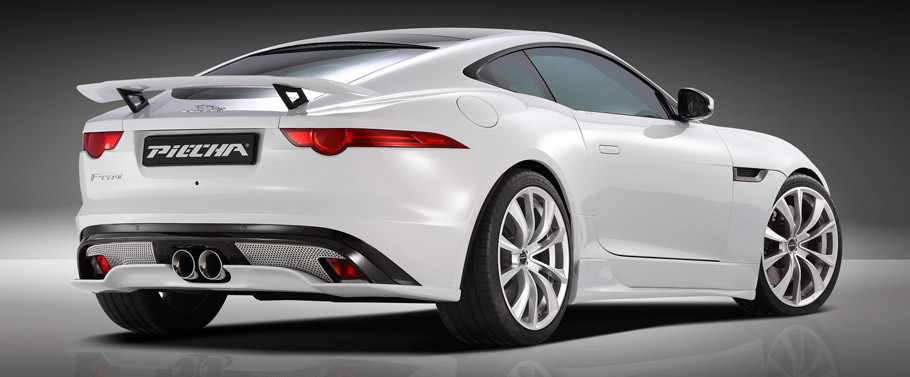 At the back, we see a three-piece integrated rear spoiler lip, which is positioned on the end of the rear hatch lid. It additionally minimizes the drag and lift over the rear axle. As an option, the tuner is also offering GT rear wing, which not only improve car's visual stance, but also creates more downforce.
This project is all about aerodynamic enhancements. This means that it can't go without any lowering. A set of springs drops the ride height by 30mm. This is then combined with a choice of 20 or 21-inch diameter alloys that add a wider stance to the car. At last, a more spontaneous throttle response is ensured via in-house made power converter module.
The PIECHA Design Jaguar F-Type 3.0 V6 Coupe EVOLUTION takes the owning and driving experience of this outstanding sports car to the next level. Similar upgrades for the V8 Coupe and convertible models are also available.
Source: PIECHA Design