Tailor Made F-Type Roadster Released by PIECHA Design

As inspiring as it might sound, the Jaguar F-Type roadster has just received some tuning modifications from the specialists at PIECHA Design. The car looks great, because it features new styling tweaks, aerodynamic components and alloys. The complete F-Type programme will be available for the 3.0-litre V6 and 5.0-litre V8 powered roadster and coupe variants.
From what we can see, the car looks wider. This is due to the side sill wings that were integrated into vehicle's lower flanks, additionally emphasizing its sleek and wider proportions. The aerodynamically sculpted Front-Cup-Wings reduce the lift and clear the air around the nose.
SEE ALSO: Jaguar XF Revealed via Strenuous High-Wire Journey 
Other functional equipment is the black standard rear underbody diffuser that features a couple of vertical stabilizing fins, which also eases airflow separation and reduces drag. In addition, there is a contoured body colored under-tray and stainless steel grille inserts as well as new four exhaust tail pipes that measure 90 mm.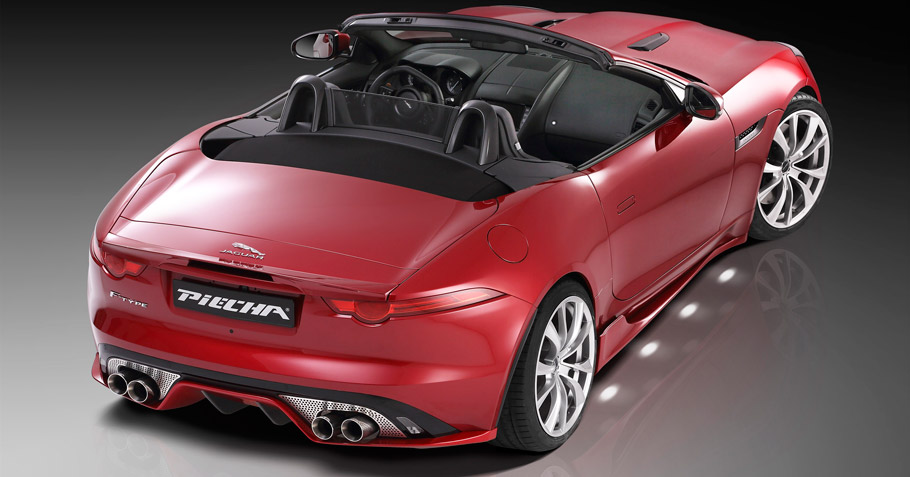 There is also an in-house made rear spoiler lip which sits on the edge of the tail. The visual stance of the car is further strengthened by the 9.5x20 and 11.0x20-inch MP1 monoblock alloys coupled with standard-size tyres. However, the springs were shortened by 30 mm, which also gives the Jaguar lower on-road presence.
Oh, and at last but not least, the Comfort-Varioroof-Module features One Touch roof operation and automatic window closing.
Source: PIECHA