The Latest Porsche 911 GT3 R Comes Lighter, Faster and More Powerful!

Based on the 911 GT3 RS sports car, Porsche created a special customer vehicle and named it 911 GT3 R. It develops the stunning 500 hp (368 kW) and it is built with special lightweight materials and comes with even better aerodynamics, better fuel efficiency and improved handling.  Of course the ride comes with sporty performance and wonderful safety features.
The 911 GT3 R features a special double-bubble roof, a wheelbase, that is further lenghtened by 8.3 centimeters. This additional 8 centimeters ensure stable ride, weight distribution and improved handling. Nice, isn't it? The GT3 R's body is built with a special light weighted aluminum, while different components, like wheel arches, doors, sides and tail are made of light carbon-fiber material.
SEE ALSO: Kaege Reinterprets the Porsche Macan S
But the really special thing about the GT3 R is the engine. The sports car is built with 4-Liter flat six unit, that comes with direct injection and special valve timing  technology. Furthermore the engine is connected to a Porsche sequential six-speed constant mesh transmission
The brake system of the GT3 R also received further modifications: the stiffness  is increased, the ABS is even more precise and the front six-piston aluminum monoblock brake callipers are combined with ventilated and grooved steel brake disc, that has a diameter of 380 millimeters. The safety features also received additional attention. The capacity of the reincforced FT3 fuel cell is increased with 12 liters, the doors and side windows can be removed and the escape hatch on the roof is now bigger. In the case of accident the bucket seat offers even better protection. Despite the fact, that the 911 GT3 R comes with wonderful safety features we all hope, that no one will ever have to use them.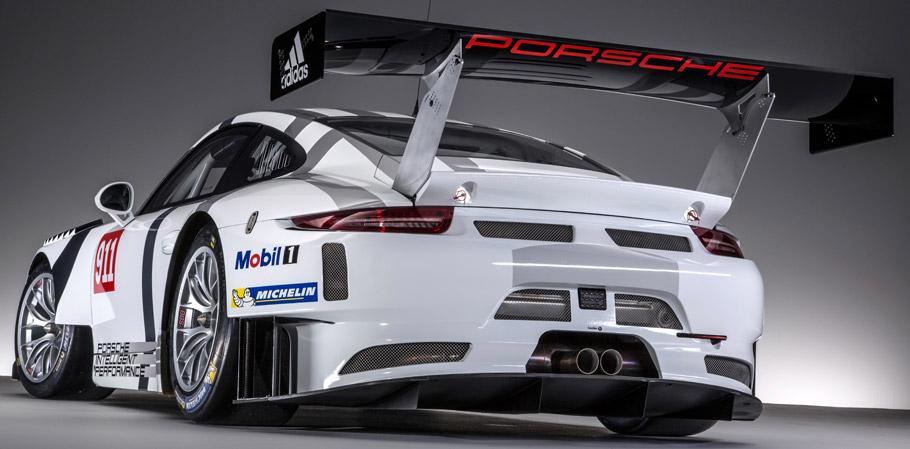 Source: Porsche