Porsche 918 Spyder - 0-333 km/h [video]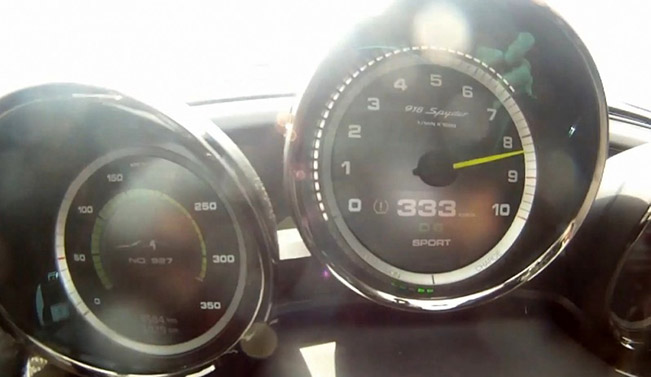 Christian Gebhardt from Sport Auto had tested the spectacular Porsche 918 Spyder. This particular car is equipped with the Weissach package, so it is even faster compared to the normal version.
The 918 Spyder is not alone in its segment, but it has to compete with LaFerrari and McLaren P1. Still, the Porsche's hyper-car is currently the fastest production vehicle on the Nordschleife with lap-time of 6 minutes and 57 seconds. McLaren P1 is aiming at 6 minutes and 35 seconds, but until an official lap, this is only a speculation.
2015 Porsche 918 Spyder is powered by a 4.6 liter V8 engine and two electric motors with combined power of 887HP (652 kW) and 1,280Nm (944 lb-ft) of torque. 0-100 km/h in 2.6 seconds, 0-200 km/h in 7.2 seconds and 0-300 km/h in breathtaking 19.9 seconds.
The Weissach package includes carbon fiber roof, rearview mirrors, windscreen frame and the rear wing. There are also ceramic wheel bearings, titanium chassis bolts and a super lightweight braking system. Last, but not least are the 20" and 21" forged magnesium wheels fitted with ultra-performance tires. The overall result is weight saving of 41 kg (90.3 lbs).
The interior boasts 6-point seatbelt harnesses and additional Alcantara upholstery.
Enjoy!
Source: Porsche