Porsche 918 Spyder With Weissach Package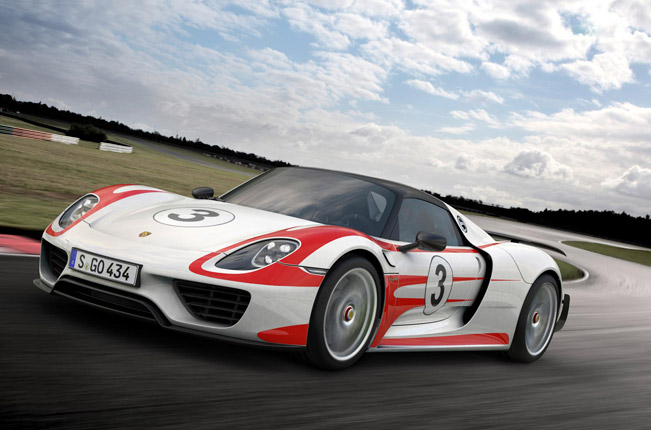 Porsche 918 Spyder is definitely the fastest Porsche currently on the road. The reason for this is that it has been optimized with Weissach package that firstly contributes towards weight reduction. The result of course is nearly limitless speed and astonishing acceleration.
To speak in numbers, the 918 Spyder accelerates from standstill to 62 mph (100 km/h) in just 2.6 seconds, which is 0.2 seconds quicker than the previous model; and from 0 to 124 mph (200 km/h) in 7.2 seconds (which saves 0.5 seconds). The top speed is passes the 186 mph (300 km/h) and it is reached after 19.9 seconds.
The improvements delivered by the package also bring benefits in terms of the electrical performance of the hybrid super sports car. The latter has been equipped with two electric motors on the front and rear axle which allow the 918 Spyder to accelerate from zero to 62 mph (100 km/h) in 6.1 seconds, without producing any emissions.
What is more, Porsche 918 Spyder complete with Weissach package has also achieved a lap record for road vehicles on the Nürburgring Nordschleife, with a time of 6:57 minutes. At the same time, the model is certified to efficiency class A+, as a vehicle which is particularly low in consumption and emission figures.
To be more precise, the thanks to the Weissach package, the total NEDC fuel consumption of the 918 Spyder amounts to 94 mpg (3.0 l/100 km) , while the CO2 emissions are estimated at 70 g/km. The level of energy consumption is 12.7 kWh/100 km during the approval cycle.
Source: Porsche