Porsche 918 Spyder at Nurburgring in a Martini Suit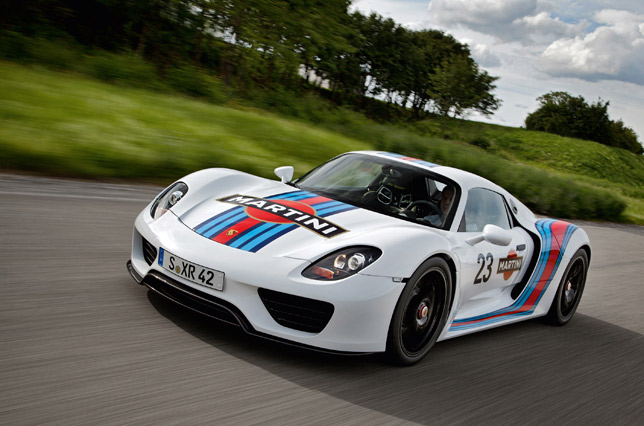 The Porsche 918 Spyder has been spotted circling the Nurburgring as a part of development testing. It also has a new suit on which makes us all excited and tingly.
It does so mainly because it's not that new. Martini was the official partner of the Porsche factory team between 1973 and 1978. It was then when the iconic "Martini Porsche" design came to be. The white, blue and red stripes saw many victories and today the legacy continues in tune with the future.
The Porsche 918 Spyder is a plug-in hybrid super sports car that uses two electric motors and a 570 hp V8 engine that can work in unison thus producing a combined power output of around 770 hp. That amount of power is good for a top speed of 325 km/h and an acceleration of less than 3 seconds until the 100 km mark. Astonishing feats when you think about the fuel consumption which is no more than 3.0-liters per 100 km.
Still, the focus is on the sports performance. The goal of the Nurburgring testings is to do a lap time of less than 7 minutes 22 seconds. Considering all the carbon fiber reinforced plastics (CFRP) that make up the body and the ceramic brakes, that time is quite feasible.
Source: Porsche