Porsche 919 Hybrid V4 2.0 liter Turbo Engine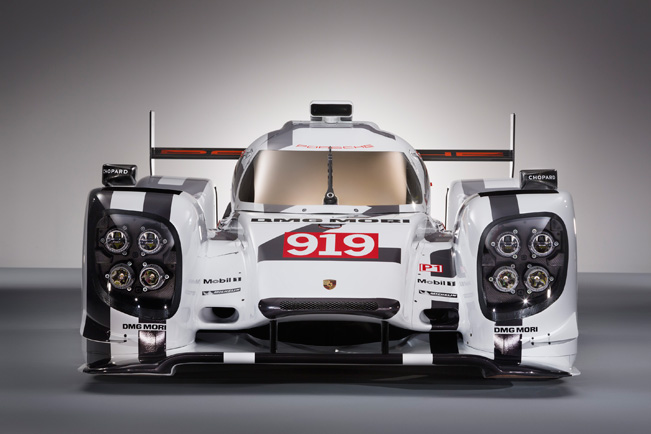 Porsche 919 is officially unveiled in Geneva, which means that the manufacturer is actually returning in Le Mans competition. The LMP1 car packs all latest technologies as well as extremely powerful and economical drivetrain and super lightweight chassis.
The drivetrain consists of a newly developed single-turbo V4 2.0-liter direct-injection gasoline engine working with a front axle-mounted electric motor and a lithium-ion battery pack. The V4 engine revs up to 9,000RPM and sends the power to the rear wheels, while the electric motor provides momentum for the front ones, which means a temporary AWD.
There are also two energy recovery systems – a brake energy recovery and a thermal energy recovery system incorporated in the exhaust system. This means an 8 MJ (megajoule) / lap energy recovery boost function. Actually, this is the maximum allowed under current LMP1 regulations.
According to the race regulations, the Porsche 919 Hybrid must not exceed a length of 4,650 mm and a height of 1,050 mm, and vehicle width must be between 1,800 and 1,900 mm. The car's aerodynamics have been fine-tuned in over 2,000 hours of wind tunnel testing since February 2012. Aerodynamics make an important contribution to the overall efficiency of the race car and reduce air drag while supplying the increased cooling air needed for the hybrid drive and the downforce needed for high cornering speeds. The aerodynamic design of the Porsche 919 Hybrid can be modified for different course characteristics.
Source: Porsche