What Makes Porsche 919 Hybrid Unique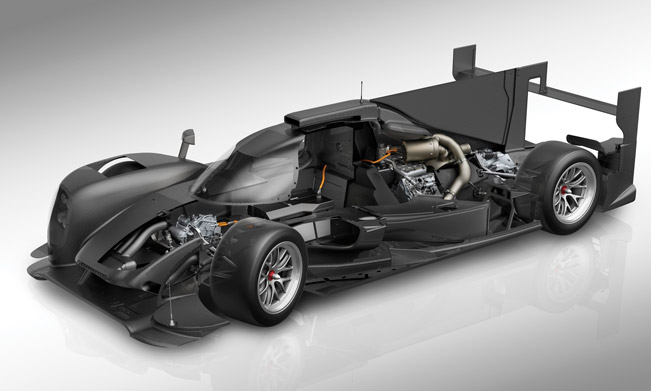 If you wonder what lies under the skin of the new Porsche 919 Hybrid, which is the most complex Porsche race car ever built, it is the V4 2.0 liter Turbo Engine. The car was designed and developed in-house by Porsche engineers and it is going to compete in the top LMP1 category of World Endurance Championship (WEC) and Le Mans. 919 Hybrid is entered in the '6-megajoule' class. According to the rules, this means that the 500 hp+ petrol engine must consume just 4.78 litres fuel per lap. The complex hybrid drive system was created exactly to satisfy these regulations, due to its ability to recuperate the thermodynamic energy from exhaust gases.
Optimum energy conversion efficiency is equal to the best possible ratio between supplied and used energy. This has influence every aspect of Porsche's hybrid, its aerodynamics as well as its weight. What makes the energy efficiency a primary factor however, is the amount of fuel available per lap. In addition, hybrid system is also a pre-requisite for the factory cars starting in the LMP1-H category.
Porsche has registered the 919 Hybrid for the 6 megajoule category, which means that the car can use exactly 1.67 kilowatt hours (kWh) of energy per 13.629 km (8 mile) long lap. In other words, with the energy the LMP1 Porsche prototype recuperates during the Le Mans race you could cover 4,576 km.
The car also uses highly innovative recuperation of thermodynamic energy from exhaust gases. It uses extra turbine generator unit instead of the wastegate. The energy from the exhaust gases drives a generator that produces electrical energy. This means that the Porsche 919 Hybrid is the only car which uses the braking energy as well as the "acceleration" energy. Both systems convert kinetic and thermal energy into electrical, which is then used in the liquid cooled lithium ion battery.
The approach used for the combustion engine is also unique. The V4 turbo unit with two litre engine displacement and direct injection represents the perfect combination of low weight and compact size. In addition, it also has structural rigidity and high power output – over 500 hp. Although the driving performance is the same as last year, the permissible amount of energy is 30 per cent lower.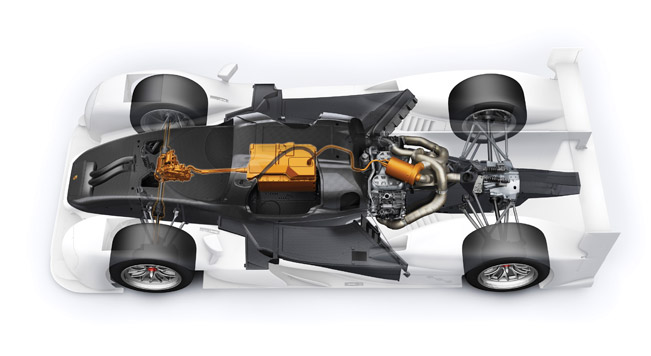 Source: Porsche