Porsche Boxenne S [render image]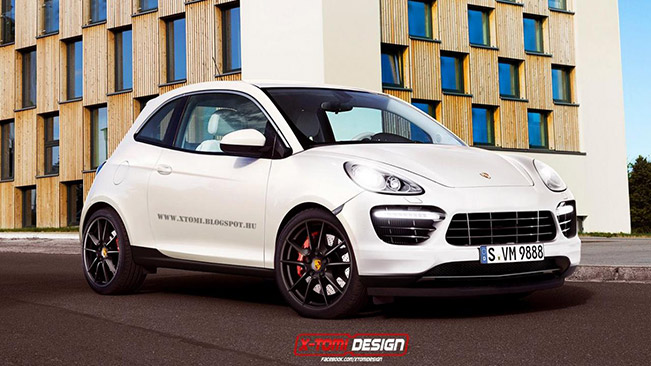 Here is a nice render image of Porsche Boxenne S, which is a mixture between the recently announced Macan crossover and Fiat 500. The hardcore fans of Porsche will curse it, but as the market demands these days, the Boxenne could be a real hit.
The render image is published by X-Tomi Design, who obviously has some very nice ideas. The small affordable Porsche Boxenne will never happen, but it will be surely appreciated. Still, we think that it will be better, if Porsche announce smaller model than Cayman. A direct rival of Lotus Elise and Alfa Romeo 4C will be very interesting.
If Porsche produces a smaller version of Macan, it could be fitted with some powerful engines. For example the Macan S is powered by a 3.0 litre V6 bi-turbo engine – 340HP (250 kW) and accelerates 0-100 km/h (62 mph) in 5.2 seconds. A 7-speed double-clutch transmission transfers power to AWD system. The top speed is 255 km/h (158 mph), and its NEDC fuel consumption figures are between 31.4 and 32.5 mpg, which corresponds to CO2 emissions of between 212 and 204 g/km. All these figures will be drastically improved, if the weight is lowered as well as the improved aerodynamics.
Imagine what will do the Boxenne S with the same engine!
Source:x-tomi design