Porsche Boxster Arrives in UK Showrooms
The Porsche Boxster hits the showrooms in the UK. Prices will start at £37,589 which means that it still will be the cheapest Porsche around and, because of it's new profile, it will be more accessible as well. By accessible, I mean more appealing to men as well. Let's be frank. Up until now, women have been the most common sight behind the wheel of a Boxster roadster.
Some highlights: two flat-six engines with direct injection and a recalibrated chassis. It's 35 kg lighter than the old one and has a 60 mm longer wheelbase (shorter overhangs nevertheless). The front and rear axles are wider and the tires on them are larger. Reports come in that the new Boxster S can lap the Nürburgring-Nordschleife in 7:58 minutes – that's a 12 second improvement over the old one. Take that and the fact that the interior is partly inspired by the Carrera GT and you'll get why I think it will be now more appealing to men – it's more aggressive, sleek and quite frankly bad (in the good sense).
Aggressive and bad are also the drive trains. Fort the Boxster – a downsized (used to be 2.9) 2.7-liter horizontally opposed engine develops 265 hp. That's 10 more from the old one. The Boxster S (from £45,384) gets 315 hp from it's 3.4-liter engine. By default, both of these cars will come with a manual six-speed gear box. Optionally, you can get the seven-speed dual-clutch Porsche Doppelkupplungsgetriebe (if you can say this out loud, you get it complementary … not). If you opt for that however, plus the Sport Chrono package, the Porsche Boxster can go from 0 to 100 km/h in 5.5 seconds while the Boxster S does that in 4.8 seconds. In return, with that setup, you get 36.7mpg, and CO2 emissions of 180g/km from the Boxster and 35.3mpg and 188g/km of CO2 from the S.
Standard equipment for the base Porsche includes in Alcantara interior, 18" alloy wheels, Auto stop/start and Sports mode, remote control hood operation, audio CD with 7-inch colour touch-screen control, a universal audio interface offering MP3 connectivity and a three year warranty.
The Boxster S has 19-inch instead of 18-inch wheels, "partial" leather interior and Bi-Xenon headlights.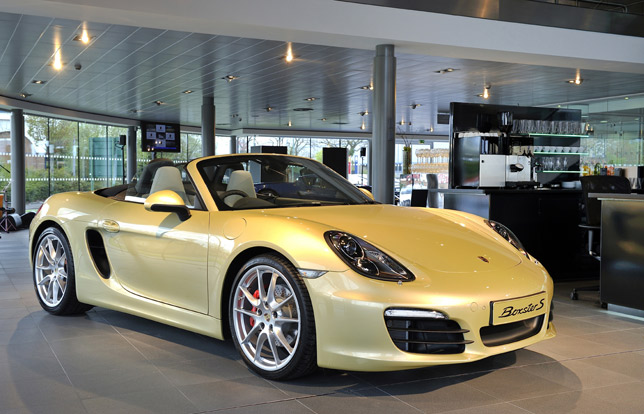 Source: Porsche