Porsche Boxster E
Recently, Porsche has introduced some very uncommon vehicles like Diesel powered Cayenne and Panamera as well as a hybrid powered car.
Porsche Boxster E will feature both RWD and AWD with power coming from an electric motor. In true Porsche spirit, the roadster will be also suitable for time attack on the race track. The car was showcased at the Michelin Challenge Bibendum in Berlin, last week.
The AWD Porsche Boxster E will be powered by two electric motors with total output 245PS (180 kW) and a staggering 540Nm at a maximum engine speed – 12 000RPM. The performance is just great – 0 to 100 km/h in 5.5 seconds and the top speed is limited to 200 km/h (124 mph).
The RWD Porsche Boxster E will have just one electric motor with 122 PS (90 kW) and 270Nm. 0 to 100 km/h takes 9.8 seconds and a top speed of 150 km/h (93 mph).
The electrically powered Porsche is completely silent, but the engineers have designed an Active Sound Design system that provides drivers with acoustic feedback as well as alerting pedestrians and other road users. Definitely a great idea!
The battery pack weighs a lot – 341 kg, so the overall weight of the car is 1600 kg. However, the capacity is 29 kWh, which is enough for a range of approximately 170 kilometres (107 miles). When the "juice" is over, the charging will take 9 hours.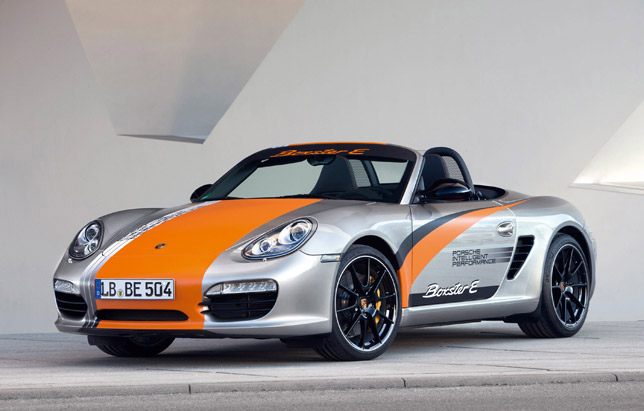 Source: Porsche