Beefy Porsche Cayenne by JE Design
JE Design have come up with a bodykit for the Porsche Cayenne that's going to set you back 28,038 Euros ($34,338). It's as if they have skinned an Alfa-Romeo Giulietta in a bit to create an exotic coat.
The kit does not even sound that sophisticated – The front skirt (which comes in two versions, one for the Cayenne Turbo/GTS and one for the Cayenne Diesel/S) utilizes the standard LED daytime running lights. Both skirts however do boast an optimized airflow and some low-mounted fog lights as well as long beam lights next to them. The JE Design hood also showcases some airflow thanks to three air outlets. At the back, 100 millimeter pipes (four of them) surround a diffuser while the C pillars get a pair extension. Also the wheel arches flare more know thanks to the new fenders. In case one feels like towing something with the now even more muscular Cayenne, there's a cover on the rear bumper that hides the coupling device. The side sills also blend into the standard Cayenne design yet they radiate their own sportishness.
An aggressive stance is achievable through the suspension as well. A JE Design air module can be controlled through an iPhone app and does not hinder Porsche's Active Suspension Management damping system. Add to that four 10 x 22-inch alloy rims that have either five double spokes or five single spokes. The 295/30 R22 tires fill in nicely the beefed up wheel arches especially when we consider the 60 mm front and 80 mm back spacers.
It's not all show and tell though. The Cayenne can seriously start shifting down the road with the JE Design engine management upgrades which are available for both petrol and diesel engines. The end power output may end up at 610 hp – serious stuff.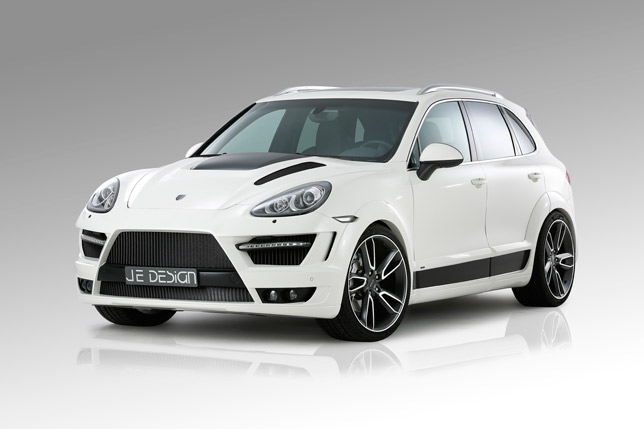 Source: JE Design