Classic Porsche vehicle owners have an occasion for celebration! Porsche reveals the Classic Radio Navigation System

Porsche team responds to the growing demand for a built-in navigation system for old Porsche vehicles. The well-known brand presents the neat Porsche Radio Navigation System, which combines a retro style with benefits of the modern technology trends. Perfectly fitting in the DIN-1 slot, the system has six discreetly integrated buttons, a touch-sensitive 3.5-inch display and two knobs. The Navigation System also integrated the aid of the SiriusXM satellite radio tuner.
The black surface and the authentic style of the system further enhances the feel of retro and vintage styling. It bears Porsche's logotype and can be geared in 911 models from the 1960s to the last air-cooled 911 (for example, the 993 series, MY1998), as well as the 912, 914, 924, 928, 944, 968 models. Sweet, right?
SEE ALSO: TIP-Exclusive creates one-off arty Porsche 911 Turbo Cabriolet
Some of the key features of the Radio system include smart phone connection with Bluetooth, low-interface radio reception, precise navigation, two USB ports, external music sources and internal microphone and external one. Cool.
And what about the development?
Porsche Classic Radio Navigation System has been exclusively developed for Porsche Classic vehicles. And as you might have expected, there are tons of optimizations. For instance, the built-in antenna has undergone some contemporary changes, while the whole device is based on Porsche Communication Management (PCM). There have been some extensive tests and experiments at the Technical University in Munich and countless trials in order to achieve these precise navigation routes.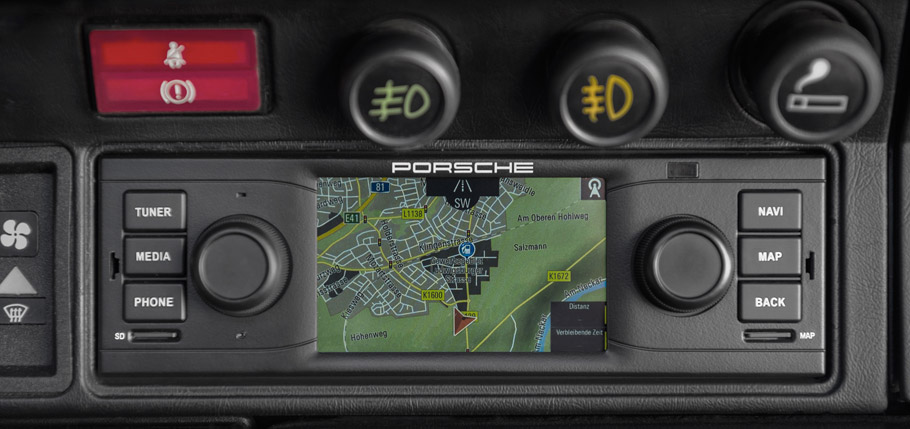 The Classic Radio Navigation System is already available and can be purchased from any authorized Porsche dealer.
Source: Porsche