Porsche Panamera S Hybrid – The world is gone mad
The first step was diesel powered Porsche and it is accomplished with 2010 Porsche Cayenne Diesel 3.0 TDI and the second is electric vehicle from the sports brand. A lot of fans didn't like the releasing of Cayenne, however, they got used to it, but an electric vehicle will be the last nail in the coffin of Porsche.

Dr. Ing. h.c. F. Porsche AG, Stuttgart, is working consistently not only on the ongoing development of hybrid concepts already in regular production, but also on practical tests as part of the Stuttgart Model Region for Electromobility, using three research cars with all-electric drive based on the Porsche Boxster.
During the tests, the electric Boxsters provided an initial first important insight into new electric drive components and battery systems for all-electric vehicle drive.
"We will definitely be offering an electric sports car in future. But such a concept only makes sense if it offers product qualities typical of a Porsche.", comments Michael Macht, the President and Chief Executive Officer of Porsche AG.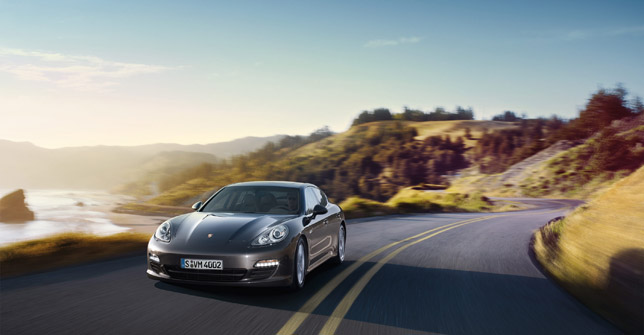 The 918 Spyder high-performance mid-engined sports car with plug-in hybrid combines high-tech breakthroughs in engine technology and electromobility with a truly fascinating range of further qualities. Emissions otherwise to be found only on a super-mini of just 70 g/km CO2 with three litres fuel consumption for 100 kilometres in the NEDC (equal to 94.1 mpg imp), come with the performance of a super sportscar developing well over 600 horsepower.
911 GT3 R Hybrid has been developed especially for racing, with two 60 kW (82 hp) electric motors on the front axle boosting the 480 hp six-cylinder power unit fitted at the rear. Replacing conventional batteries there is an electrical flywheel power storage system re-charged whenever the driver applies the brakes and thus delivering energy to the electric motors. The 911 GT3 R Hybrid has already proven its racing qualities in the 24 Hours of Nürburgring and almost won it, but almost, because the victory slipped away, because of technical problem.
Porsche Cayenne S Hybrid, Porsche also offers the first production car in the range able to run under electric power alone. With maximum output of 380 hp, the Cayenne S Hybrid makes do in the NEDC cycle with just 8.2 ltr/100 km (equal to 34.5 mpg imp), and CO2 emissions reduced to a mere 193 g/km. This hybrid technology will also be featured in the future Panamera S Hybrid due to enter the market next year.
Hopefully, Porsche manage to keep their fans and potential customers, because it just does not suit to a brand with entirely sporty traditions to create diesel, hybrid and fully electric vehicles.