Premiere For The Buick Riviera Concept Vehicle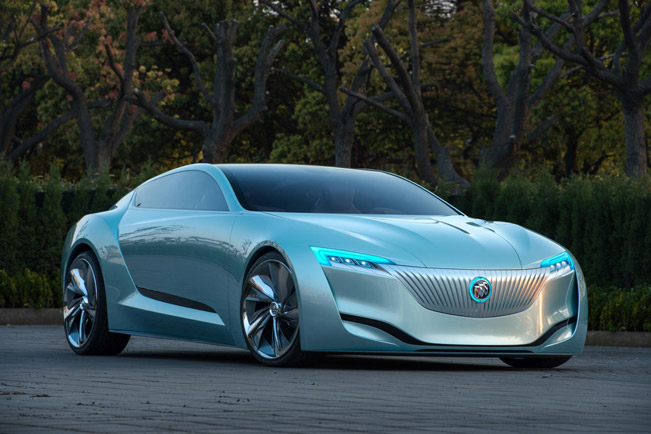 A brand new version of the Buick Riviera Concept vehicle made a world debut in Shanghai, showing off its avant-garde aesthetics and range of advanced technology. The concept is powered by a plug-in hybrid electric motor which comes in a single package.
The Rivera Concept retains the sweeping design cues of the previous versions, but is more athletic in terms of shape and exudes elegance and deeply sculpted lines. The concept's silhouette has a three-dimensional effect that resembles waves in the ocean coming to a standstill for a split second.
In addition, here are featured Buick's one-of-a-kind gull-wing doors that add more to the sportiness of the model. The new Riviera has an ice celadon exterior finish inspired by jade. What is more, the updated concept vehicle has a new waterfall grille and wing-shaped daytime running lights.
The balance between style and performance is kept thanks to the inclusion of its raked windshield, 14-degree fastback design and metallic fiber spoiler, active grille shutters and diffusers, and active pneumatic wheels.
Next, the interior of the car is based on the 360-degree integrated design strategy. Inside the coupe, the eaglewood tone predominates and features extensive use of refined materials like sand-blasted aluminum alloy, lava suede and ebony. The luxury feel is further enhanced, thanks to the new center console, front floating seats, adaptive seating system and noise-absorbing head restraint system.
In terms of technologies included in this project, this Buick includes BIP (Buick Intelligent Performance) and dual-mode W-PHEV (wireless plug-in hybrid electric vehicle) propulsion system. This basically means that the driver can choose to go on green power in electric mode and enjoy the exhilarating handling and performance of a sports car while driving "green" in hybrid mode.
The Rivera can be charged with a traditional cable or wirelessly via a sensory recharge panel on the car's chassis. Another highlight here is that this concept is also given an intelligent four-wheel steering, an electromagnetic-controlled suspension and an air spring package.
The safety and security features here include a forward-looking active safety system that gathers traffic information through 10 high-resolution cameras and 18 micro high-precision sensors. Then the information is being integrated and afterwards projected in a holographic image on the windshield.
Furthermore, the intelligent driver assist system delivers high level of active safety and security, because it incorporates some versatile technologies such as an eagle view record system, night view assist, side blind-zone alert system, lane departure warning system, full-speed range-adaptive cruise control system, lane change assist system, parking assist system, rear cross-traffic alert system, autopilot system and "transparent" A pillars.
Source: Buick