1965 Buick Riviera Piece by eGarage
You're sitting there at your kitchen table, bathrobe still on, sipping coffee and casually glancing at the columns on this morning's Financial Times. Life's pretty good when you are a self-made man - Two kids, a house big enough for two more and a BMW 5-series at the drive alley. Not the F10 though. It's an E60 – you have been financially stable for quite a while now and at the time you were buying it, the F10 wasn't out yet. Maybe you'll wait for the next generation as to not appear too shallow.
Suddenly ripples form in your now half empty mug, subtle clinking comes from the cutlery next to your breakfast, the windows tremble in high frequency... and is that a boiling kettle you hear? Stepping outside you witness the embodiment of the one thing that you have always been missing – A matte black '65 Buick Riviera ominously cruising the streets as your onlooking neighbors seem to shrink behind their neatly trimmed hedges. It's your dark side basically, making a cameo.
Or... it could be just the guys from eGarage.com filming a piece about this prime example of 1960 US Automotive design. As a result, they ended up with this chill-inducing 1 minute or so video that got us all excited. Obviously this Riviera, promptly called "The Freak", has had a bit of a modification. It was our keen eyes which saw that... in the description bellow - an AccuAir suspension system was used for that extra low-ride.
Anyway. The important thing is that the key concept behind the Riviera has been preserved...or at least that's what we are hoping for – a 425 cu in (7.0L) engine rumbling out 340 hp at the least, a Twin Turbine automatic transmission, a double wishbone coil spring suspension plus power brakes and power steering. Those last three... they are not what you'd call innovation but keep in mind that this was the standard setup back in '65 – a time when the wheel was still a hot topic. Then there are the cocooned (or clam-shell) headlights which might just be the coolest feature on a car...ever.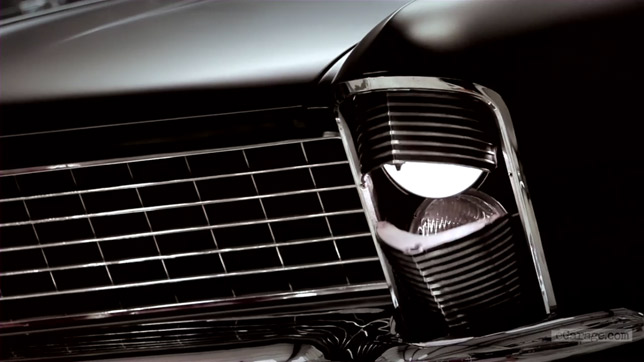 eGarage.com appreciate the aesthetics of cars worldwide. For them, representation, background and legacy is king. Also, we can always count on them for some eye-candy delivered by masterful photographers and cinematographers. The soundtrack here isn't bad either.
Source: eGarage.com via Vimeo